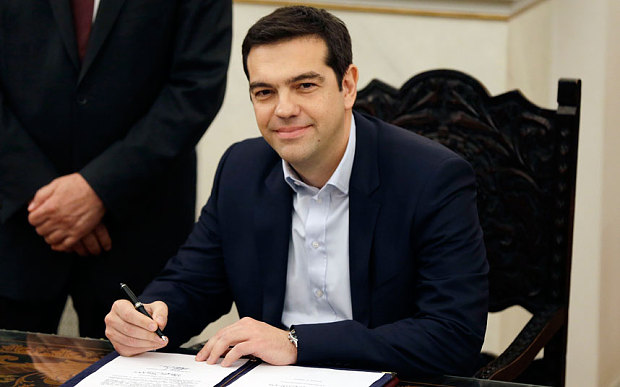 Athens, January 27, 2015/ Independent Balkan News Agency
By Lefteris Yallouros
SYRIZA leader Alexis Tsipras was sworn in as prime minister at a brief ceremony by President Karolos Papoulias on Monday, after his radical left wing party scored a historic election victory Sunday night, making him the youngest ever premier in the country's history at 40 years of age.
Tsipras's first act as PM was to lay flowers at the National Resistance Memorial at Kaisariani, in a highly symbolic move, in honor of hundreds of communist national resistance fighters that were executed by the Nazis on May 1 1944.
Earlier, Tsipras had reached an agreement with right -wing Independent Greeks (ANEL) leader Panos Kammenos to form a coalition government that will be represented by 162 members of parliament; 149 from SYRIZA and 13 from ANEL.
Outgoing Premier Antonis Samaras was not present for the traditional handover to Alexis Tsipras at the Maximos Mansion, sending the chief of his prime ministerial office in his place.
Meanwhile, messages from EU officials and leaders from around the world were flocking into Athens as Greece's European counterparts, mainly, were quick to remind the new PM of the country's bailout obligations.
German Finance Minister Wolfgang Schauble ruled out the possibility of  another haircut on Greek debt or extending the deadline for repayment. Christine Lagarde, the head of the International Monetary Fund, said Greece cannot be given special treatment over its debts. She told Le Monde: "There are internal euro zone rules to be respected. We cannot make special categories for such or such country."
Dutch finance minister and Eurogroup chief Jeroen Dijsselbloem has warned that there isn't much support for writing off Greece debt across the eurozone. He said: "We stand ready to work with them (SYRIZA), as we have with previous Greek governments, to strengthen the Greek economy within the Eurozone (…) if necessary" the Eurogroup could have another look at the debt sustainability facing Greece, after the completion of a review of the country's current financial situation".
Pierre Moscovici, the European Commissioner for Economics and Finance, says the EU recognised what he called "the clarity and legitimacy of the new Greek government". Moscovici, said that he looked forward to negotiations with the new Greek PM, Alexis Tsipras as soon as possible, stressing that the European Commission and the new government had a lot of goals in common.
Jean-Claude Juncker, president of the European Commission, congratulated Alexis Tsipras, adding that he was ready to help Greece achieve goals that would benefit Greeks and the European Union.
Rating agency Standard & Poor's sent a much more worrying message to Greece on Tsipras's debut as PM. Almost an hour after Tsipras was sworn in, an S&P statement that it might bring forward a review scheduled for March 13, if it believes Greece's credit worthiness has been hurt by the political upheaval.
The Greek stock market ended lower after a volatile day, losing 3.2% to 813.55 basis points with banks suffering heavy losses.