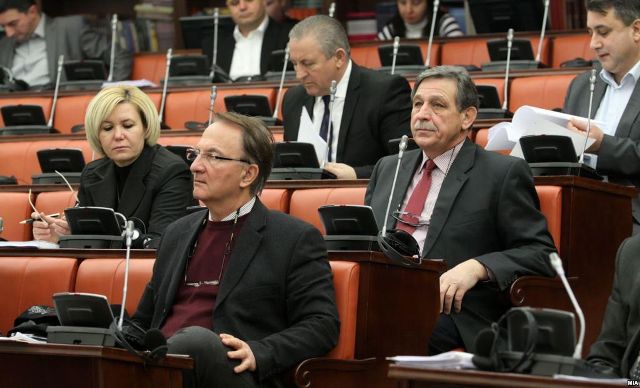 Skopje, 18 November 2015/Independent Balkan News Agency
By Naser Pajaziti
Parliament in FYR Macedonia has elected the members of the inquiry committee which will investigate the wiretapping scandal. This committee has 16 members from the four largest parties in the country, VMRO-DPMNE, SDSM, BDI and PDSH, while leading this committee will be SDSM lawmaker, Petre Silegov.
Based on the June 2 agreement for the solution of the political crisis, this committee will work in order to identify political responsibility by looking into the conversations that have been taped.
But this committee has already promoted debates between MPs on the way how it will work and on its objectives.
VMRO-DPMNE, Antonio Milososki said that this committee must not turn into a circus or a court.
"We must not allow for the committee to turn into a political circus or a court. We are interested to find out the truth, but the truth cannot be selective. A member of the committee or of a political party, cannot decide on the political truth of a particular situation based on materials that have been chosen in a selective way", Milososki said.
The head of the committee, Petre Silegov declared that their duty is to identify political responsibility on the wiretapping affair. He said that based on the examination of this case, many witnesses and experts will be heard.
"The task of this committee is to identity political responsibility in relation to the content of the published materials. I believe that Mr. Miloshoski believes that he's still in the conversations", Silegov said.
BDI lawmaker, Talat Xhaferi told IBNA that the committee has the capacity to examine all materials and issue the respective recommendations to parliament.
"The inquiry committee was set up based on the political agreement which aimed at putting an end to the crisis and it will come out with a report until the end of January", Xhaferi said.
The inquiry committee will have 16 members, 8 of which will belong to VMRO-DPMNE, 4 will belong to SDSM, 2 to BDI, 1 to PDSH and 1 member is independent.
Meanwhile, the recorded materials will also be investigated by the Special Prosecution, which will verify if there are criminal offenses in these conversations. /ibna/