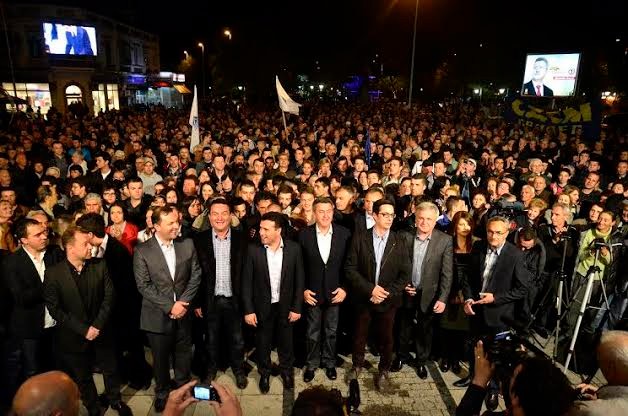 Skopje, April 25, 2014/Independent Balkan News Agency
By Naser Pajaziti
Debates are taking place in the former Yugoslav Republic of Macedonia over the suspicion that in case of a big defeat in the parliamentary and presidential elections of April 27, the Macedonian opposition may refuse to recognize the election result and encourage scenarios for political crisis. According to the denounced plan, the opposition will accuse the current party in power, VMRO-DPMNE for massive electoral rigging.
Media that criticize the opposition in Skopje, say that the Macedonian opposition has prepared incidents and scenarios which will lead to a political crisis in case of a defeat in the April 27 early parliamentary elections.
"The Macedonian opposition must declare if it's preparing its scenario to provoke a political crisis in case of a defeat in the parliamentary and presidential elections of April 27, in order to discharge itself from the responsibility for the bad management of the campaign and party structure", writes the Macedonian press.
These scenarios started when the opposition leader of the Macedonian Social Democratic League (LSDM), Zoran Zaev and his collaborators have started to declare that the elections in the country have started to be stolen. The scenario is suspected to exist based on Zaev's declarations which do not exclude protests on the streets.
"The party in power intends to rig the electoral process. In case this happens. Then the opposition will boycott, protest on the streets and cause civil disobedience", said Zaev. He said that all important decisions will be decided by the party's steering committee.
VMRO-DPMNE of current prime minister, Nikola Gruevski says that it has indications for such scenarios of the opposition. This party says that LSDM has detailed a scenario on the election day according to which it will order its activists to provoke and cause problems in order for this to be used as an alibi for the defeat and then trigger a political crisis.
"LSDM is seriously preparing scenarios not to recognize the result of the parliamentary and presidential elections. LSDM has issued an order and directives to its activists in order to provoke incidents and problems and to create an alibi to for the defeat", declared Ilija Dimovski from the press office of VMRO-DPMNE.
Macedonian political analyst, Branko Gerovski told IBNA that this scenario must be taken into consideration by the opposition.
According to him, this is the only way to fight the current party in power, "which will not be removed through the free vote".
"Our problems and challenges must unite the Macedonian opposition. We must expand the network of friends and prepare a new strategy to object the regime. But, the citizens have one last chance on April 27, to make a difference with their vote", says Gerovski. He believes that the opposition must unite and must not submit in front of the current party in power. /ibna/