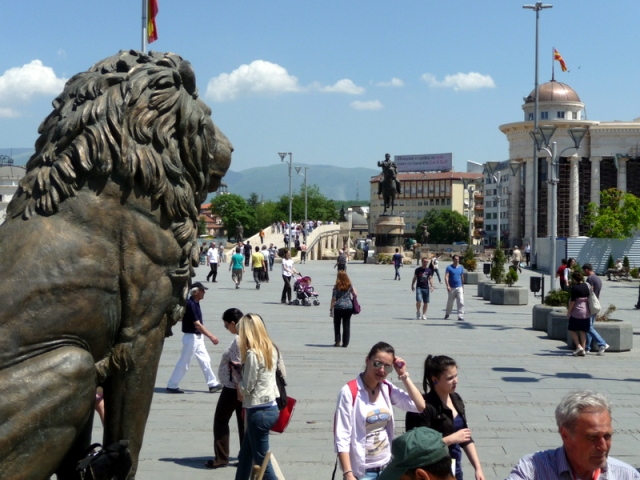 Skopje, 3 June 2015/Independent Balkan News Agency
By Naser Pajaziti
There have been reactions today in Skopje in relation to yesterday's agreement between the leaders of the four political parties, with the brokerage of the EU Enlargement Commissioner, Johannes Hahn. One of the points of the agreement was to hold early general elections in April 2016 and for them to be held by an interim government, which will be determined in the next meeting of the political leaders scheduled to take place on 10 June in Brussels.
Macedonian president, George Ivanov, praised the political dialogue today between the main political leaders, underlining that dialogue is the only way to overcome all challenges and pending issues.
"There's optimism in overcoming the crisis. All participants in the political dialogue must show understanding and responsibility in order to restore political stability in the country", declared Ivanov.
According to him, EU's involvement in the talks indicates the determination of the country for Euro Atlantic integration.
Former veteran politician and former leader of the Liberal Party, Stojan Andov declared for IBNA that the agreement brokered by EU Enlargement Commissioner Hahn gives way to the solution of the crises, but according to him, there are still some pending issues.
"We are witnesses of the fact that Gruevski has made several concessions. However, I believe that Gruevski must step down and create an atmosphere for the solution of the crisis. His collaborators too, with which he has built government policies, must resign. Nothing would be solved if this step is not taken", Andov declared.
Political analyst, Saso Ordanovski, says that the new agreement delegitimizes the current government of the coalition between VMRO-DPMNE and Democratic Union for Integration (BDI) and that it creates the necessary conditions for an interim government, which hold fresh elections.
"The agreement can be considered as a big step in this political crisis. We will see if all sides will agree in Brussels, but it's clear that Gruevski and Ali Ahmeti have agreed on this government to fall", declared Ordanovski.
According to him, a few weeks ago, Gruevski declared that he's against the elections, while now, he's making concessions, which means that he's withdrawing from his political stances.
In social networks, citizens have praised the agreement which has been achieved and which gives way to the solution of the political crisis. But, supporters of the party in power, VMRO-DPMNE do not agree for Gruevski to step down from the post of the prime minister.
Klime N, a supporter of the party in power says that Gruevski must continue to govern, because according to him, he has the trust of the people. "We have a legitimate government elected by the majority of the citizens through the elections. A government which is elected by the will of the people and not a government like Zaev wants it, through manipulation and dirty political games", Klime N said.
Supporters of the Macedonian opposition have praised the agreement that has been reached, stressing that they will continue to keep their tents in front of the government, until the government resigns. /ibna/