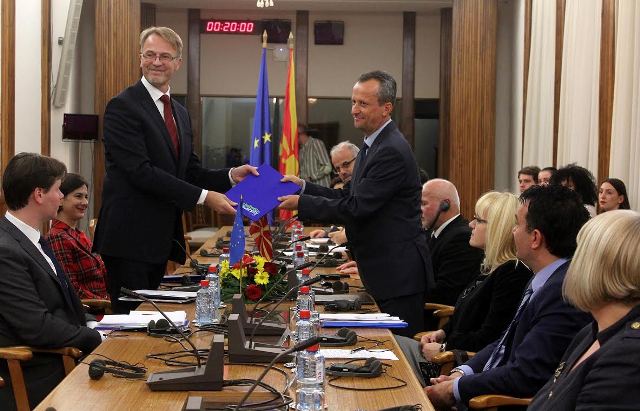 Skopje, 11 November 2015/Independent Balkan News Agency
By Naser Pajaziti
For the seventh time in a row, a recommendation was granted for FYR Macedonia to launch EU accession talks, but this recommendation was conditioned with the implementation of the political agreement of June 2 and the elections which will be held on 24 April 2016. This recommendation, as part of the progress report on FYROM, has prompted strong political debates, where parties have accused each other. But there have also been comments among experts and NGOs.
Prime Minister Nikola Gruevski declared that this report praises the efforts made by the country in terms of EU integration, but according to him, the people will be the better judge of the topics of the report.
"The people will assess the report in the next elections and with this, everyone will be clear that it's the people who decide in this country", Gruevski declared.
Gruevski said that the report contains positive and negative remarks, but according to him, all sides must be engaged to overcome the challenges and criticism mentioned in the report.
The deputy chairwoman of the opposition party SDSM, Radmila Sekerinska, said that with its constructive role, the opposition managed to save the recommendation.
"The fact that the country has been given a conditional recommendation ten years after the country was granted the EU candidate status, shows that this government is not a serious one", Sekerinska.
The head of the Association of Journalists, Naser Selmani said that this is the darkest report on FYROM since the country was granted the EU candidate status for the first time. According to him, this government or whichever government arrives in power in FYROM, will find it very difficult to avoid criticism, because the EU will constantly insist for the country not only to amend its legislation, but also implement laws based on European Union standards.
Meanwhile, EU ambassador to Skopje, Aivo Orav declared that the most important thing is that the European Commission granted the recommendation, but he said that this recommendation is conditioned and that it will be reviewed after the elections. /ibna/