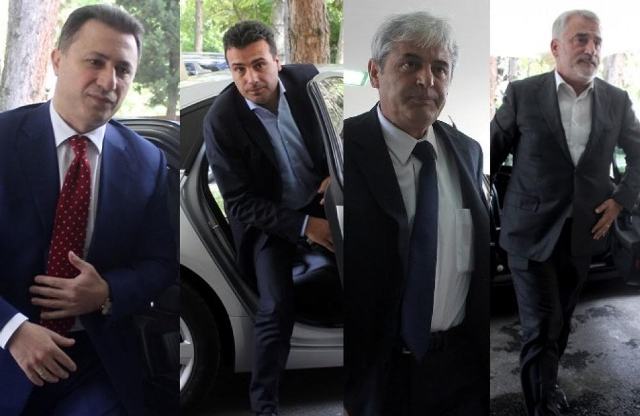 Skopje, 1 February 2016/Independent Balkan News Agency
By Naser Pajaziti
The early election date has prompted political debates in Skopje. While the two parties in power, VMRO-DPMNE and BDI (Democratic Union for Integration) demand for the elections to be held on 24 April, as it was agreed on the June 2 accord, Macedonian opposition led by SDSM (Macedonian Social Democratic Union) demands for a postponement of this date, as the conditions set out in this agreement have not been delivered yet.
PDSH (Albanian Democratic Party) has also agreed for the elections to be held on 24 April.
The leaders of the two governing parties, VMRO-DPMNE and BDI have stressed that in case the elections are not held on this day, then the crisis may escalate even further.
Former prime minister and leader of VMRO-DPMNE, Nikola Gruevski said yesterday that if the elections are held on 24 April, then this will mark the end of the political crisis.
"We must and we will manage to hold free and democratic elections and this will put an end to the political crisis. This crisis has negative effects on the economy and Euro Atlantic aspirations of the country. We must put an end to everything damaging the citizens", Gruevski declared.
Meanwhile, his coalition partner, Ali Ahmeti of BDI has talked about the threat that the postponement of the elections represents.
"If election date is postponed, then we lose on a very important opportunity, the NATO summit. It's not a good thing for the domestic developments to postpone the election date, because there may be tension. We are also expecting a swarming of refugees", Ahmeti declared.
But, the SDSM has reacted on this through a press statement, where it rules out 24 April as an election date.
"Nikola Gruevski has admitted that there must be free and democratic elections. Gruevski has once again proven that he's scared of leaving through free and democratic elections. Otherwise, he would not prevent the implementation of key elements of the Przino Agreement and would accept of making adjustments on the voters' lists and solve the issue concerning the media. Yes, there will be free and democratic elections in Macedonia, but not on 24 April", SDSM declared.
EU Enlargement Commissioner, Johannes Hahn is expected to visit Skopje in mid February, in order to assess the implementation of the agreement and demand compromise between the four political parties. The opposition has decided not to participate in the elections without the adjustments in the voters' lists. Meanwhile, another issue relates to the failure to pass the bill on media. /ibna/