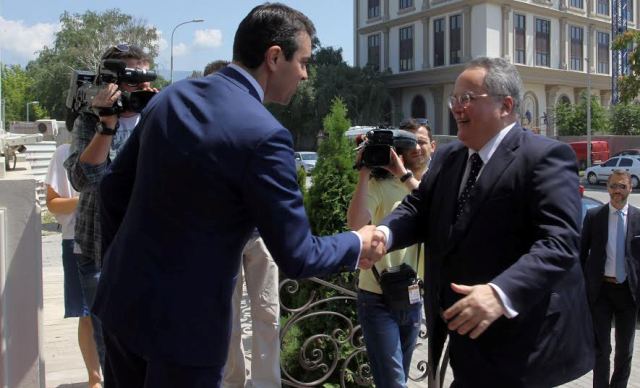 Skopje, 25 June 2015/Independent Balkan News Agency
By Naser Pajaziti
The visit of the Greek Foreign Minister, Nikos Kotsias has sparked reactions and different comments. Today's press has commented this visit by considering it very positive and saying that this has broken the ice between the two countries, due to the name dispute that has been going on for several years. The document which was signed and which aims at boosting trust between the two countries has been also praised by opposition political parties, who said that this is an important step in the relations between the two countries and which gives way to the solution of the name dispute.
The press comments the visit
This visit was the main topic of the daily press in Skopje. The headline of "Utrinski" newspaper was "Ice is broken" and the article writes about the importance of Kotsias' visit on the issue of the name dispute. The paper quotes Kotsias declaration that everyone has the right to express his identity.
The other pro government newspaper "Dnevnik" says that a Greek foreign minister visits FYROM after 10 years. According to this newspaper, Kotsias has issued positive signals about the possibility of finding a solution for the name dispute. The paper praises the agreement with the measures that aim at boosting trust and which are aimed at giving way to cooperation between the two countries in different domains.
The opposition newspaper, "Sloboden Pecat" also writes about Kotsias' visit, saying that if trust between the two countries is boosted, than it would be easier to solve the name dispute.
Other media too have praised this visit and the approach of the Greek diplomacy lead by the left. A part of the media says that a party like SYRIZA of the extreme left was never expected to manifest such approach toward Skopje in relation to the name dispute.
Political parties praise the visit and the measures that were agreed
Political parties have also praised the messages sent by Greek Foreign Minister, Kotsias.
Zoran Zaev, leader of the largest party of the opposition SDSM, says that he backs every incentive that improves relations between the two countries. Zaev said that he also backs the document which contains the measures to boost trust signed between the Greek and Macedonian government. "The advancement of relations will boost confidence, giving way to a solution of the name dispute", Zaev declared.
Ali Ahmeti, leader of the Albanian party BDI, said that the stances of the Greek minister show that the Greek side is interested on solving the name dispute.
"I noticed a readiness by the Greek Foreign Minister that Greece is open to talks. In this case, Greece is very interested for this problem to be solved as soon as possible and for this country to back our country in its accession in the NATO and EU", Ahmeti said.
Leader of the Albanian opposition party, Menduh Thaci of PDSH, said that regional stability is achieved through healthy neighboring relations and in this context, the solution of the name dispute through compromise is very important for good neighboring relations, security and regional stability. Thaci praised the readiness of the Greek minister to start the process of finding compromise for this long dispute. /ibna/