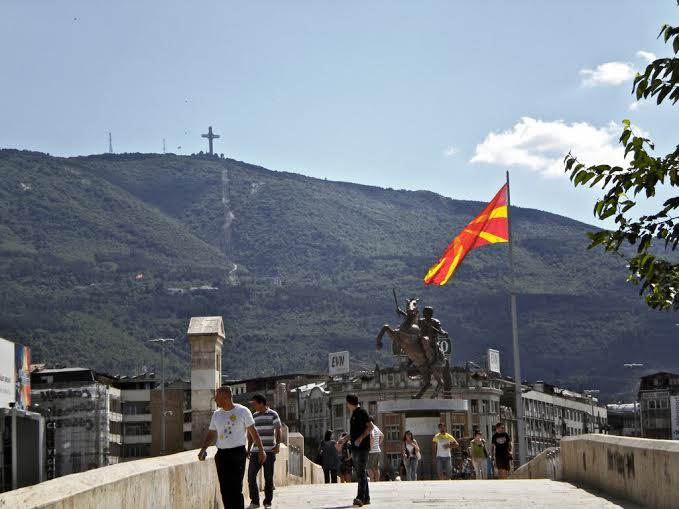 IBNA Special Report
Skopje, June 18, 2014/Independent Balkan News Agency
By Naser Pajaziti
Cross ethnic incidents in urban areas and ethnic related hatred continues to be a worrying phenomenon in FYR Macedonia. Skopje is a multi ethnic city which has recently been engulfed by turmoil and cross ethnic problems.
Association of Albanian Historians in Macedonia (AAHM) has launched a campaign of debates between eminent Macedonian and Albanian personalities called "Urban areas-a space for cohabitation".
Skender Hasani, chairman of the association told IBNA that the scope of their campaign through debates aims to bring the two largest communities, which are involved in ethnic incidents, closer to each other.
"The aim of these debates is to remove ethnic differences. With this, we want to prevent new Berlin walls", declared Skender Hasani.
Part of this debate was also university professor, Vlado Popovski, who is at the same time the head of the Municipality Council of Skopje. "Multi ethnic realities in urban areas must be used as bridges between different ethnic groups and cultures. We must debate and communicate and prevent distancing and isolation. Skopje enjoys the tradition of respect toward multi ethnic reality and this tradition must not be destroyed", said Vlado Popovski for IBNA.
Opinion makers and recent opinion polls have shown that the political class is encouraging turmoil and language of hatred.
MP from the Skopje constituency, Ermira Mehmeti says that politics must do more in order to create joint urban spaces for the citizens to feel equal in enjoying public goods.
"Tolerance is the future of our state. Political reality in Macedonia is challenging. The Old Quarter of Skopje is an example as to how tolerance works, while on the other hand, we have 'Skopje 2014' which doesn't have this quality", said Ermira Mehmeti MP.
Albert Hani, a civil society activist told IBNA that the state is passive in finding the right mechanisms to build a multi ethnic and multi cultural society. "We need interaction between different cultures. The mechanisms that the state is using to regulate problems within society are not efficient. Different commissions for cross cultural cooperation must build museums which reflect diversity", said Hani.
Citizens of different ethnic groups have also been involved in these debates. They demand a turning point in order to cultivate cohabitation and multi ethnic spirit. "The political class is to be blamed, because it constantly causes tension and ethnic related conflicts. Instead of cultivating cohabitation, they encourage conflict. As citizens, we're clear on this, but in many cases, the political class has its own strategy to manipulate people's emotions", said Sinja. M, a student from Skopje.
Incidents and ethnic related tension have grown in the capital of the country. The last case was that of the murder of a Macedonian young man by an Albanian fellow teenager, a murder which sparked violent protests and attacks against properties and businesses belonging to Albanians in the Gorce Petrov quarter in Skopje. /ibna/