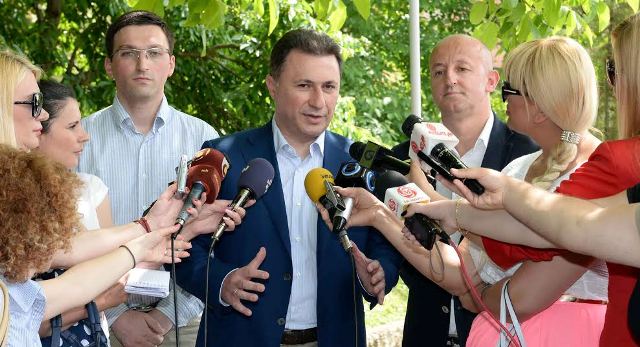 Skopje, 15 June 2015/Independent Balkan News Agency
By Naser Pajaziti
The political crisis, following the failure of talks in Brussels, brokered by European Commissioner for Enlargement, Johannes Hahn, has been at the center of debates in FYROM.
So far there are no signals as to whether there will be another invitation from Brussels to continue political dialogue in order to overcome the political crisis.
Different media in Skopje have reported that the European Union is ready to broker the crisis and find a solution, if there are incentives by political leaders in Skopje.
But, during the weekend, there has been no incentive by the main political parties for the continuation of dialogue. The two largest political parties VMRO-DPMNE and SDSM (Macedonian Social Democratic Union) have continued to launch accusations against each other as to who is to blame for the failure of June 10 talks in Brussels, where no agreement was reached about the solution of the political crisis.
While Macedonian opposition demanded an interim government without Nikola Gruevski as PM, the latter's party VMRO-DPMNE insists on a government who will be led by Gruevski, until the holding of fresh early elections in April 2016.
On Sunday, Macedonian opposition has reiterated its demand for the resignation of this government, which has deepened political crisis in the country.
Zoran Zaev, SDSM leader, declared after the meeting that all opposition parties back his positioning for the removal of Gruevski's government.
"An interim government where Nikola Gruevski would not be part of, is one of the basic principles that can guarantee free and democratic elections in the country. This is the only way to restore trust on institutions and for the situation to return to normality", Zaev declared.
Zaev said that his party considers the June 2 agreement reached in Skopje as invalid. Based on this agreement, parties agreed on holding fresh parliamentary elections in April 2016 and that until that period, they would hold reforms for the electoral code, registration of population, reforms in line with European standards and the investigation of the wiretapping scandal.
In an urgent meeting held by VMRO-DPMNE of PM Nikola Gruevski, the latter declared that his party is open to launch negotiations with political parties in order to solve ongoing problems.
Asked if his coalition partner would abandon the government, Gruevski declared that in case this party leaves, then he will articulate his position. Gruevski has avoided journalists' questions, but the head of VMRO-DPMNE parliamentary group, Ilija Dimovski declared that their party is ready to face elections at any time.
"We're ready at any time to face elections and we are open to all options. With its scenarios, the opposition is causing great damage to the country and being unable to cope with the elections, it's trying to seize power in other forms", Dimovski declared.
Political analyst Mersim Maksuti, told IBNA that in this situation of political tension, the best solution to solve the crisis is through a government of experts.
"A technical government made up of experts would be the most acceptable temporary solution. The experts that would be part of the government must meet two criteria: they must all be good professionals and to have integrity, in order not to accept political pressure and take the country out of the crisis by holding free and democratic elections", Maksuti declared.
Incentives are expected this week for the continuation of political dialogue. During the weekend, the European Union has issued messages for the continuation of dialogue as the only path for the solution of the political crisis and to make progress in the Euro Atlantic integration path. /ibna/