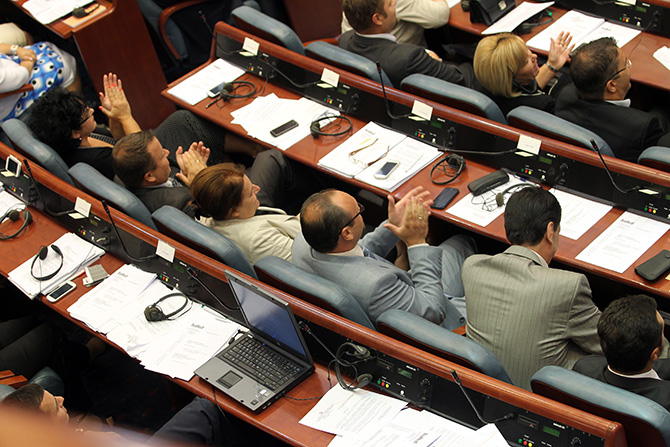 IBNA Special Report
Skopje, April 16, 2015/Independent Balkan News Agency
By Naser Pajaziti
A proposal for a general political amnesty to give way to a solution of the political crisis and reduce tension between political parties has sparked debates in FYR Macedonia.
It was the former PM and current  leader of opposition party VMRO-NP, Lubco Georgievski who said that in order to reduce political tension and to give way to a solution of the crisis in the country, there must be an amnesty for all political protagonists, especially after the wiretapping scandal, which unveiled the involvement of government and state officials in scandals and corruption affairs.
Former PM Georgievski demanded an amnesty for all the protagonists of registered materials made public by the Macedonian opposition.
"Perhaps this would upset some of you, but the situation would easier be solved in case the sides would agree on this. This amnesty would include all protagonists and even the ones who have been involved in the rigging of elections. If this doesn't happen, the majority in parliament will not make any concessions. Both sides are prepared for many arrests and in case we enter that cycle, then we may never solve the crisis", Georgievski declared.
But, the leader of the largest opposition party, SDSM, Zoran Zaev declared that nobody is entitled to ask for an amnesty and that all officials involved in the registered conversations must be held accountable and return what they have stolen.
"Who am I to talk about an amnesty? Our country has a Constitution and laws. They must not only fall from power, but they must also be held accountable for breaking the law. They must also return what they've stolen to Macedonia. The country has laws on this and everything that they've taken outside of their legal and honest work, they must return. Nobody has the right to suggest any amnesties here", Zaev declared.
A similar answer has also come from the party in power, VMRO-DPMNE, underlining that there's no chance for any amnesty and that all those who have broken the law, will face justice. "Our positioning is clear and we have publicly said that there will be a legal and political end to this. Meanwhile, SDSM only wants a political finalization of this matter in order to evade legal responsibilities", declared VMRO-DPMNE lawmaker, Aleksandar Nikolovski.
Citizens are also against any amnesty for politicians.
Ilir Keraj, a lawyer, told IBNA that all politicians involved in criminal offenses and corruption, must be brought to justice. "We're clear about the fact that several politicians want to benefit through an amnesty, but this is not acceptable, because in case this happens, then future politicians will be motivated to follow the path of crime and corruption and then evade responsibility through amnesty. Those who have stolen the money of the people, must return it and end up in jail. This is the only alternative that guarantees trust on institutions", said Ilir Keraj.
Meanwhile, small political parties have also expressed themselves against this amnesty. /ibna/