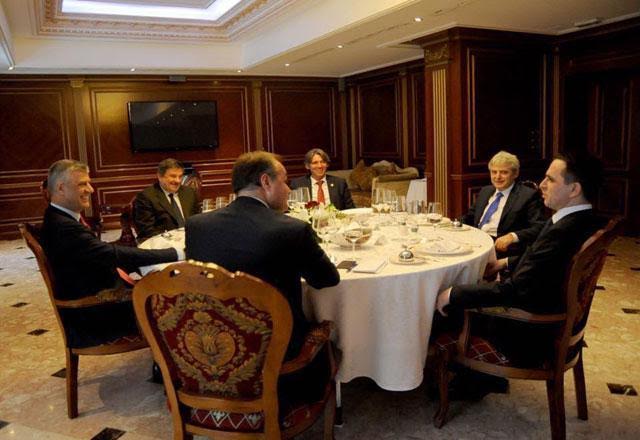 A part of Macedonian political parties have commented the joint platform of Albanian parties in FYROM, while the largest parties, VMRO-DPMNE of Nikola Gruevski and SDSM (Macedonian Social Democratic Union) of Zoran Zaev have not issued any comments.
VMRO-DPMNE has not had any clear stance on the conditions of Albanian parties, as it hasn't yet analyzed this agreement.
"We will analyze the platform and then issue our comment", says spokesman of VMRO-DPMNE, Ivo Kotevski.
SDSM also said that it will examine this platform in the coming days. Macedonian parties and a part of Macedonian political analysts have launched accusations against Tirana and Pristina for their involvement in drafting this agreement. According to them, this agreement, enabled by PM Edi Rama and Prime Minister of Kosovo, Hashim Thaci, attacks FYROM.
Macedonian People's Movement, a small Macedonian party, has said that Albania's and Kosovo's involvement in the drafting of the platform of Albanian parties in FYROM means that they have declared the country war.
Janko Bacev, leader of this party said that this intervention is an attack to FYROM's sovereignty and integrity. "We call on Gruevski and Zaev to approve a national document for the protection of national and state vital interests", Bacev said.
Political analyst and former ambassador Risto Nikovski, considers the joint platform of the Albanian parties as an anti-constitutional ultimatum.
"This is anti-constitutional ultimatum by Tirana and Pristina, sent through their Trojan horses. This is an unlawful document for the redefinition of the state, which must be voted in a referendum. The people must decide and not the party that is mandated to form the government. If the people accept such document, then there is no problem", Nikovski declared.
The situation is expected to be clarified during this week when the largest party will start the talks for the creation of the new government.
President of the country, George Ivanov will mandate today the leader of VMRO-DPMNE, Nikola Gruevski as a party that won the elections, to form the government. Gruevski will have 20 days to propose the new government cabinet to parliament. If he fails, then he will return the mandate and the president will mandate the leader of the second biggest party, SDSM, Zoran Zaev. /balkaneu.com/