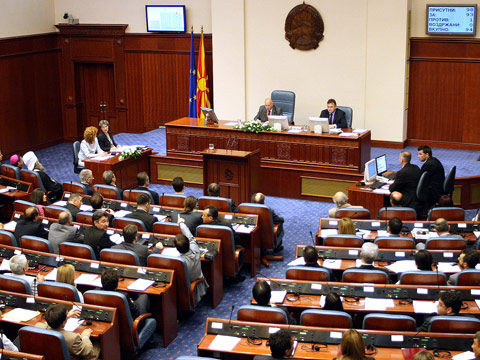 Skopje, September 25, 2013
Albanian parties, PDSH and BDI have clashed and launched accusations against each other about the annual program for the important cultural events and personalities for 2013. Bekim Fazliu, PDSH lawmaker said that this program is denigrating for Albanians and that according to him, it arrives in parliament after nine months to be voted. After commenting on the program, Fazliu has torn the program and threw it over to the speaker of parliament, Trajko Veljanovski.
"To ignore your people up to this level, like you of BDI are doing with this program is first of all an unprecedented political amorality and irresponsibility for national sentiments. All the dates that should have been taken note of have expired, therefore it's pointless to discuss this program", said Fazliu.
But, BDI lawmaker, Ermira Mehmeti-Devaja has reacted by saying that the gesture of Fazliu is not an educated one and it's not in the level of an MP.
"This was an uneducated gesture. It's not decent of a representative of the people to make this gesture. We are used to the threats of the Albanian opposition for burning parliament and its materials, but still base its work on these documents. This is hypocrisy to me", said BDI lawmaker. /ibna/