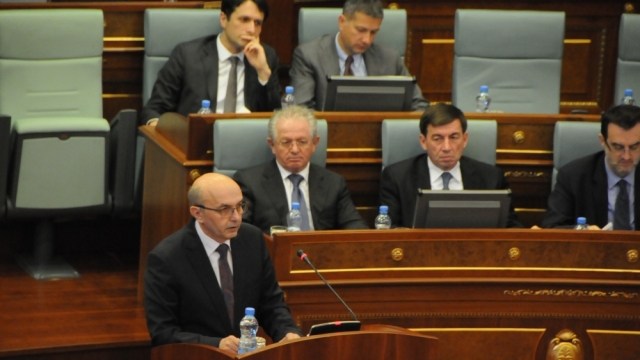 IBNA Special Report/The first 100 days in office of the current government have been considered as hopeless by opposition MPs, while the majority praised the work of the governing coalition.
Pristina, April 3, 2015/Independent Balkan News Agency
By Elton Tota
On Thursday, opposition parties in Kosovo have launched strong criticism about the first 100 days in office of the government led by PM Isa Mustafa.
The head of Self Determination parliamentary group, Glauk Konjufca said that the first 100 days of this government will be remembered for economic problems, corruption, degradation of education and political influence on the justice system.
On behalf of three political subjects, Self Determination, AAK and Incentive, Konjufca demanded from the government the publication of the agreements reached in the Brussels talks and the issue of the Special Tribunal.
He also demanded for Trepce to become a public owned company as soon as possible, to see the publication of the information regarding the process of tendering the construction of New Kosovo Thermal Plant and also the contract and expenses on the highway linking Pristina to "Han i Elezit". He also demanded the contract with Bechtel Enka to be suspended.
Faton Topalli from Self Determination said that this program should have brought back optimism for the citizens of Kosovo. But, according to him, no approved budget reflects the priorities declared by Mustafa.
"The drafters of this budget themselves have called it a non serious budget", Topalli said.
Topalli said that the representatives of the government claim a VAT reduction on a small number of products, while on the other hand, they increase VAT on many other products.
"There's information that imported goods are being taxed much more than the real value. This is robbery and this is happening without the knowledge of Mustafa's cabinet. 100 days are enough to see what direction the country is taking and the first signals are not very promising", he said.
Leader of the Alliance for the Future of Kosovo, Ramush Haradinaj declared that there are several issues that must be addressed by the government, such as corruption. According to him, if the situation in the country is not addressed, Kosovo along with its government will go down.
Meanwhile, Fatmir Limaj from Incentive for Kosovo said that this is a paradox situation, for which he said that it's not clear whether the debate is being made on the first 100 days of the government in office or the government program.
Mustafa: I will restore trust among people with my program
Kosovo's PM Isa Mustafa has responded to the criticism launched by opposition parties.
He said that his program has five domains, which will restore trust among people.
"The program is based on five domains: economic development, rule of law, European agenda and crucial reforms in education and health sector. The government program is based on European democratic values, respect for tradition, freedom, justice, tolerance, transparency and freedom of speech", he said.
Deputy PM and Foreign Minister, Hashim Thaci declared during these debates that the government program of the two parties is ambitious and suitable for the political reality in Kosovo. /ibna/