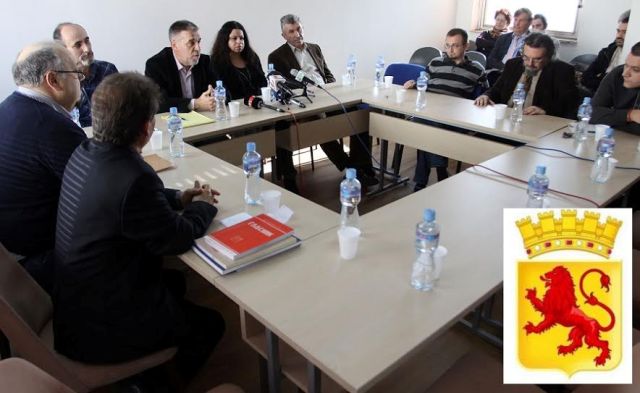 IBNA Special Report
Skopje, December 16, 2014/Independent Balkan News Agency
By Naser Pajaziti
Macedonian and Albanian historians are divided about the new state symbol proposed by the government. While the majority of Macedonian historians say that the symbol or the new state insignia contains state and historical elements of the Slavo-Macedonian people and very few elements of other communities, Albanian historians say that this symbol is almost mono-ethnic.
In spite of these differences, historians say that they're ready to jointly discuss and find a solution that reflects the multi-character of the nation.
Katerina Todorova from the Institute of National History told IBNA that there must be a joint debate about the proposal of the government for the change of the insignia in order to come to an acceptable solution for all sides.
"We must discuss this issue, which has sparked debates between Macedonians and Albanians as the two largest nationalities. So far we've had separate debates, but I appeal for joint debates to take place. It's never too late to do something positive and hold joint debates", Todorova said.
History professor and representative of the Association of Albanian Historians in FYROM, Vebi Xhemaili says that the insignia which has been proposed with a lion on the center and the rest of the elements do not represent Albanians.
"As a historian, I don't see any Albanian elements in that insignia or in the lion, although in the past, Ilyrians have used it, but today, we have nothing in common with the lion, especially after Scanderbeg's wars, which defended not only Albanians, but all of the Balkan nations. Albanian political subjects which participate in the government must object and not accept the dictate of VMRO, because if they do not accept any of our requests, we are slowly being deleted from the national history", says historian Vebi Xhemaili.
Milan Boskovski, a historian from the National Institute of History supports the insignia proposed by the government.
"The new proposed insignia with the lion is acceptable. This symbol is present in the Macedonian history. There's no flag of the Macedonian revolutionary organization during the Ilinden period that doesn't contain the girl that symbolizes Macedonia and on the other hand, the lion", Boskovski says.
But, it's the Macedonian historians that also object the government proposal especially the lion symbol, because according to them, this symbol is also used by Bulgarians.
Historian Marjan Dimitrievski says that the new insignia is not Macedonian, but Bulgarian.
"The stances expressed by my colleagues in the recent days are entirely personal and they are certainly prepared to talk as if they've been imposed by someone. This incentive proposed by the insignia leaves an impression as if the lion is a copy of the Bulgarian lion. Why should we clash with the neighboring country which has imported this symbol and that during its history, has promoted it as if it was its own", Dimitrievski declared.
The new state insignia has also caused clashes with Albanian party in power BDI (Democratic Union for Integration). Although the government has passed the first draft of the proposal for this symbol, after the recent debates and reactions from historians, this Albanian party is withdrawing from the proposal approved by the government, for which its ministers have voted in favor. The new insignia contains a shield and inside of it it's the figure of the lion and above it, there's a crown. /ibna/