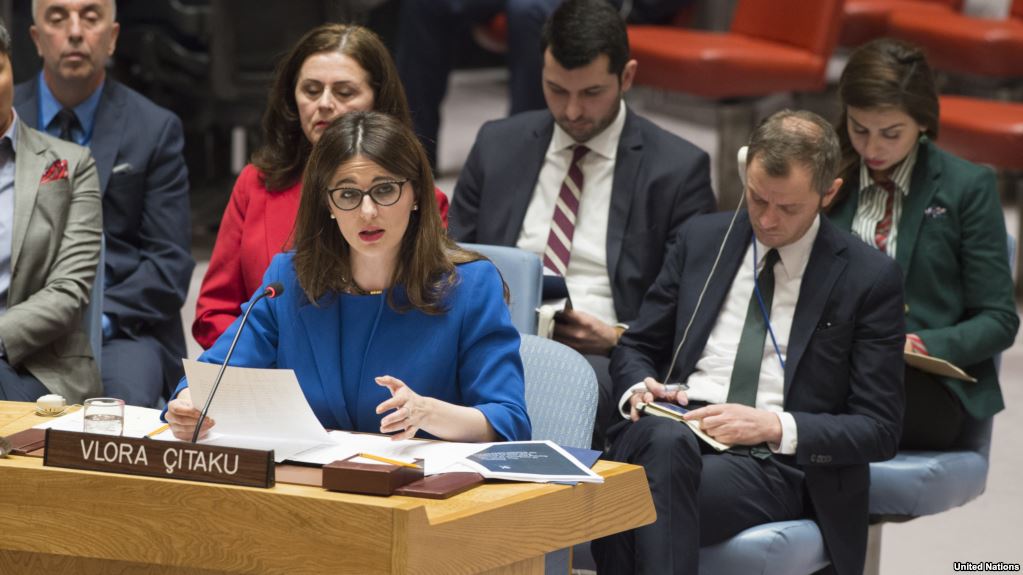 Kosovo's ambassador to the US, Vlora Çitaku on Wednesday said in New York that "nobody can veto" the creation of the army of Kosovo and that the world should support Kosovo's integration in international organizations. Çitaku made these comments during the meeting of the UN Security Council regarding the situation in Kosovo.
Serbia's Foreign minister, Ivica Dacic, opposing Kosovo's plans to change the mandate of the Security Force, said that his country "is against these unilateral acts… I'd like to stress that it's unacceptable to bring such radical decisions at a time when we're holding talks in order to find a solution. I expect the members of the UN Security Council to condemn such decision taken by Pristina".
Ambassador Çitaku pointed out the pressure that Belgrade is exerting on the members of the Serb community who participate in the Kosovo Security Force, saying that the creation of the army of Kosovo will never be part of the talks with Serbia.
"Let me be clear, no other state can veto the creation of our armed forces. This decision belongs to a sovereign state", she said.
The Serb minister also spoke about what he considered to be as "Pristina's campaign, assisted by several other countries, for Kosovo's accession at Interpol", stressing that these are "mere political aspirations".
Ambassador Çitaku said that Kosovo should be part of Interpol in order to contribute for world security.
"I don't know what our northern neighbour has to lose from this", she said by underlining that "those who prevent Kosovo's accession at Interpol are helping organized crime".
Kosovo is aiming to secure the necessary votes to become part of Interpol during the meeting that this organization will hold on November 20 in Dubai.
Meanwhile, Kosovo and Serbia expressed their different points of view regarding the presence of the United Nations Mission in Kosovo and the regular reporting at the UN Security Council. While the minister insisted that  this mission should continue in order to protect the rights of Serbs and other non-Albanian minorities, ambassador Çitaku said that UNMIK should end its mandate there as Kosovo is an independent country now and this mission is no longer necessary there and this was also supported by western powers.
Ambassadors at the UN Security Council expressed their support for the process of talks being held between Kosovo and Serbia for the normalization of relations. /ibna/