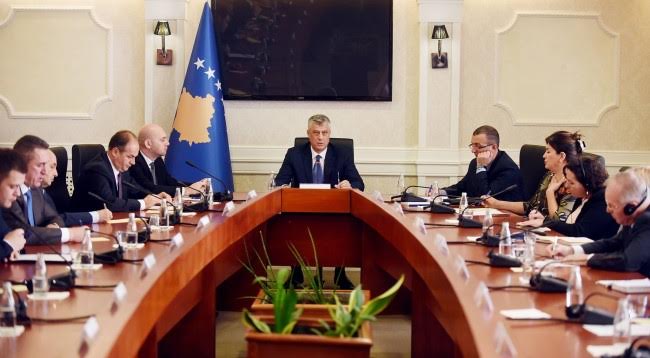 President of Kosovo, Hashim Thaci has had a meeting today with representatives of small political parties, to discuss the electoral reform.
During his speech, president Thaci said that Kosovo needs a reform in the electoral system.
"Given that Kosovo is a young state, the electoral reforms are even more complex. In Kosovo there's a need for an open debate to discuss the elections, electoral process and the process of voting. Kosovo needs reforms in the electoral system to create a fair process and for this, there must be legal changes", declared Thaci.
The President has also talked about the possibility of the President being elected by the people.
He said that two possibilities exist: first, for the President of Kosovo to be elected by the people and the second one is for the President to be elected by parliament, but with changes in the voting process, whereby more than 50% of MPs should be present in the voting process and for the President to be given more powers.
Thaci also talked about the changes in the voting process, stressing that there must be a reduction of the number of candidates in the electoral lists. He said that the number of seats in parliament should also be reduced from 120 to 100 or less and increase the number of MPs from minority communities that live in Kosovo.
At the end, Thaci added that the voters' list must be adjusted.
On the other hand, Prime Minister of Kosovo, Isa Mustafa declared that his party is ready to contribute for the implementation of the electoral reform.
"Kosovo's Democratic League is ready to contribute in this process. We're in favor of making this process simpler", Mustafa said.
The PM also said that local government elections must be reviewed and the electoral process to be finalized as soon as possible.
Meanwhile, the opposition parties were not present in this meeting. Their absence was criticized by civil society. Ismet Kryeziu of the Kosovo Democratic Institute (KDI) says that the electoral reform must include all the political spectrum and the participation of the opposition in this process is crucial. /balkaneu.com/