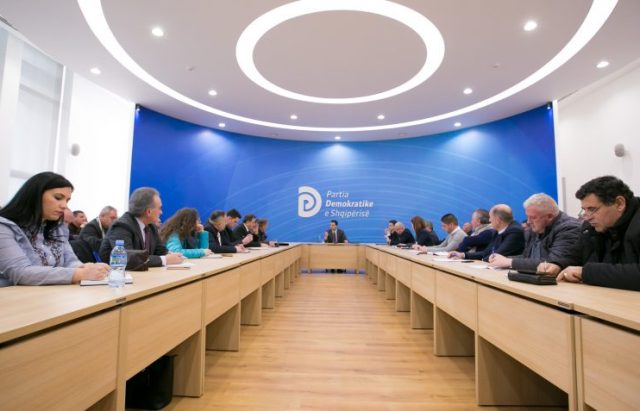 Rumors have grown in the recent days within the left wing majority that the opposition is imposing big conditions for the parliamentary elections with the aim of boycotting them. This suspicion has been a cause for concern for international diplomacy.
These rumors were denied in the recent hours by the chairman of the Democratic Party, saying that they have been spread by government propaganda. Basha said that the opposition will not boycott the 18 June elections. "DP will participate in the elections and the elections will be fair and democratic. There is no other scenario", Mr. Basha said.
Mr. Basha's declaration comes a day after the Democratic Party that he chairs, along with 23 other parties, signed a memorandum asking the government to implement the process of electronic voting and counting in the elections that will be held in a few months.
The memorandum imposes 5 conditions, the delivery of which would guarantee free and honest elections.
Commenting on the opposition's conditions, the SP says that there is no time for electronic voting and electronic counting of ballots.
Due to the little time remaining until the elections, the OSCE ambassador to Albania, Bernd Borchardt has been against the idea of electronic voting, by saying that "it is a very complex process that requires a detailed and timely planning of the way how equipment will be purchased and the way the security system will be evaluated, certified and guaranteed".
"There must be an intensive campaign to inform voters and elections' officials must be trained", ambassador Borchardt said.
He says that electronic voting requires more time than the time that has remained and without this time, OSCE cannot recommend such thing. "Electronic voting requires more time than the time remaining and without that time, OSCE cannot advise such thing".
The OSCE ambassador says that the process has been delayed and he confirms that he is skeptic as to whether the reforms required to achieve standards, will be delivered.
"Very little time is remaining for a major and detailed electoral reform, which would meet OSCE/ODIHR recommendations, OSCE engagements and international standards. The changes that may be made to the legislation at the last minute can mine the confidence of the public in the process", Mr. Borchardt said. /balkaneu.com/