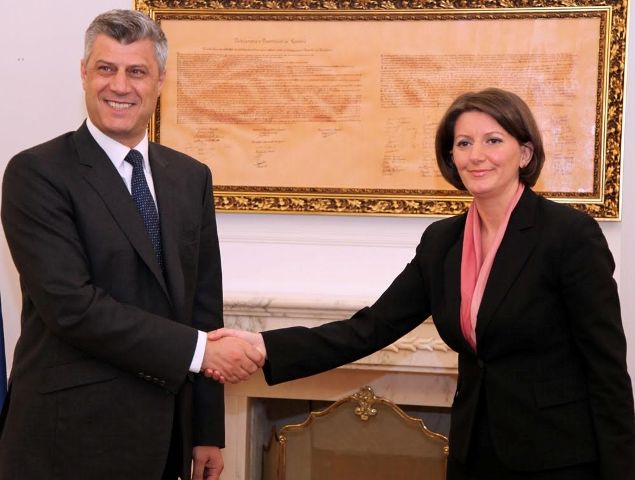 Pristina, 9 June 2015/Independent Balkan News Agency
By Elton Tota
In 2016, a new president is expected to be elected in Kosovo, as the term in office for the current president, Atifete Jahjaga expires.
But until then, a possibility is being envisaged to make constitutional amendments which would enable the citizens of Kosovo to elect the president of the country and not MPs, who have elected the president up until now.
As far as this debate is concerned, political parties in Kosovo have different opinions.
Democratic Party of Kosovo (PDK), which is aiming to elect its leader, Hashim Thaci as president, says that the election of the president by the people would be the best thing.
Basri Musmurati from PDK says that it's time for the people of Kosovo to elect their president.
According to him, this post would represent the country without the influence of the political parties.
"But, do we need a strong president who is not influenced from political parties? I believe that we have matured as a society to have such president and to make his post a stronger one", Musmurati says.
But, the election of the president by the people is objected by the representatives of opposition parties in the country.
Dardan Molliqaj, from Self Determination says that it would be absurd for the president to be elected by the people, as Kosovo is a parliamentary system.
"Kosovo is a parliamentary system, while the president must be a symbol of the state. I believe that it would not be a solution to have the president elected directly by the people, because if this is the case, then we become a presidential state. There's no sense in being a parliamentary state when the president is elected by the people", Molliqaj says.
Meanwhile, professor of European law, Fatos Rushiti told IBNA that the election of the president by the people is more democratic.
"There are many parliamentary systems such as Romania, Croatia, Macedonia… where the president is directly elected by the people and I think that this is good for democracy. If he's elected by the people, then there's a need for cohabitation between the president who may come from one party and the prime minister who may come from another political party. The system of values that we are aiming to build in Kosovo demands for the power to stem from the people", he says.
Meanwhile, the election of the president with the current law is regulated by article 86 of the Constitution of Kosovo, which states that the President is elected no later than 30 days before the end of the mandate. 2/3 of votes in parliament are needed for the election of the president and in case the president fails to be elected in three consecutive voting sessions, early general elections are declared. /ibna/