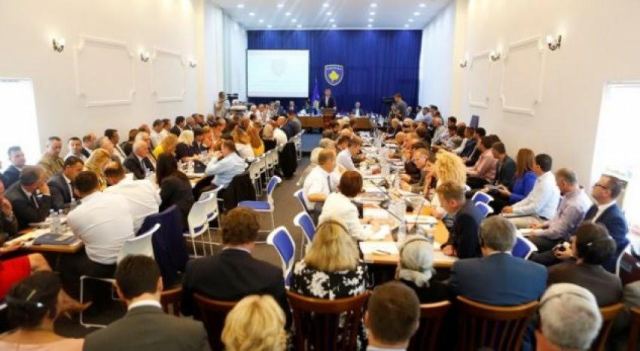 Pristina, 4 August 2016/Independent Balkan News Agency
By Elton Tota
The debate on the border demarcation with Montenegro ended late last night in Kosovo. Present in this debate were representatives of institutions and political parties, experts and Western diplomats. But, the positions of the opposition and the majority didn't change.
Opposition and independent experts said that the agreement takes away from Kosovo 8 thousand hectares of land. They rejected the claims of the State Commission for the border, according to which, this demarcation is in line with the documents in force, including the Ahtisaari Plan.
The head of the Parliamentary Group of Self Determination, Glauk Konjufca said that the State Commission for the demarcation of the border has worked based on a political demarcation. He has accused the government of Kosovo for "bargaining with the government of Montenegro".
"They have given extra powers to themselves by changing the border. We are entitled to undermine the work of Kosovo State Commission, as it has exceeded its powers and created a new border", Konjufca said.
Representatives of different institutions demanded for arguments to be given and if no mistakes have been made, then the agreement should be ratified in parliament.
They once again stressed that the country hasn't lost even a square meter in the border demarcation process. President of Kosovo, Hashim Thaci said that institutions and the state commission have just marked the border and not rewritten history.
But, opponents of this process say that it is against international law, maps and history.
US ambassador, Greg Delawie criticized the opponents of this process saying that the agreement favors Kosovo, its sovereignty and its international position. He also criticized the institutions for lack of transparency, which he considered as the foundation stone of a state and according to him, this issue should have not been politicized this much.
However, he said that the USA will support the people of Kosovo, regardless of whether the agreement is ratified or not.
Signed in August last year in Vienna, the agreement has not been sent to the parliament of Kosovo, also due to the fear of the majority parties of not being able to secure two thirds of the votes, given that MPs from their ranks too could vote against it due to the discontent with the process.
The ratification of this agreement has been imposed as a condition for the liberalization of visas for the citizens of Kosovo and its delay could block the plans for this process.
For now, it is unclear as to what will be the next steps of the institutions of Kosovo, which face pressure as a result of the political processes and internal pressure to change the agreement. /balkaneu.com/