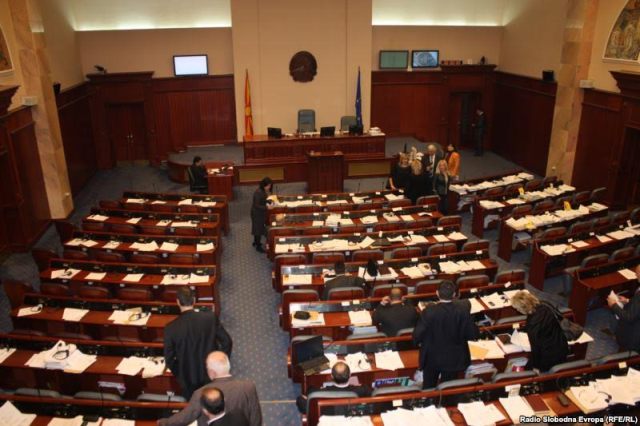 Skopje, 16 October 2015/Independent Balkan News Agency
By Naser Pajaziti
Debates are taking place in the parliament of FYR Macedonia on the 2016 draft budget.
The debates had a political and ethnic nature. The financial projection for the 2016 budget is around 3,2 billion euros, the biggest budget ever approved by the government led by VMRO-DPMNE and BDI (Democratic Union for Integration).
The Macedonian opposition said that this budget will serve to electoral campaign next year, while the Albanian opposition said that this budget is discriminating for Albanians.
But the minister of Finance, Zoran Stravrevski said that the budget will be used for development, capital investments, increase of pensions and salaries, social aid and other projects.
"The 2016 draft budget will enable the highest level of investments ever, it will allow the increase of pensions and compensation for social aid, while the budget deficit will go down from 3,6% to 3,2% of GDP", minister Stravrevski said.
"This budget cannot be realized, because it's focused on pre electoral unreal projects.  The government has not been real in the projection of the GDP growth and will cause a high deficit, something that the state will fund through loans", Marjanco Nikolov, SDSM lawmaker declared. According to him, the government will penalize the citizens and companies by fining them in order to fill the state's treasury.
Meanwhile, PDSH said that the budget has been drafted at the detriment of Albanian ethnics. According to him, the budget proposed by the government preserves its discrimination against Albanians.
"Figures and facts show how this government is drafting the budget, where on one side, it cares about the wellbeing of Macedonians and on the other, it leaves Albanians in dire economic conditions. This budget, where money from Albanians are being invested for Macedonians, is legitimized with the consent of the Albanian partner in the government, Democratic Union for Integration", said PDSH lawmaker, Ymer Aliu.
Meanwhile, citizens say that the budget must improve their living standards.
Anita S, an entrepreneur told IBNA that the budget must help the citizens and address unemployment. "We're only hearing figures and have nothing real. We're seeing that the government is borrowing fresh loans and we, the people must pay them back", says Anita S.
The draft budget continues to be a hot topic in parliament and so far, opposition parties have proposed around 300 amendments. /ibna/