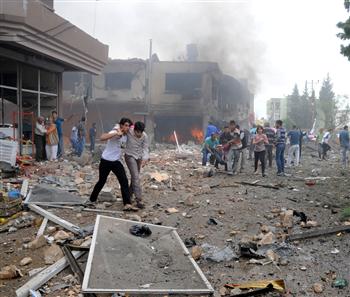 The death toll from suspected twin car bombs that hit the southern province of Hatay's Reyhanlı district on the Turkish-Syrian border has risen to 40, Turkish Interior Minister said today. At least 100 people were injured, 29 of whom are in critical condition, he added.
The town center of Reyhanlı, which is hosting many Syrians fleeing the conflict in the Arab republic, was the target of deadly explosions at around 1:45 p.m. local time. Bombs were set off near the municipality, causing major damage to buildings in the town center. A wooden building close to the municipality collapsed following the explosions, while power has reportedly been cut in the town.
The explosions were likely caused by two cars filled with explosives, Güler told reporters in his first remarks after the attacks, but other reports indicated that there were three or more explosions. Güler also said they had preliminary information about the source of the attacks. Police took heavy security measures after the explosions.