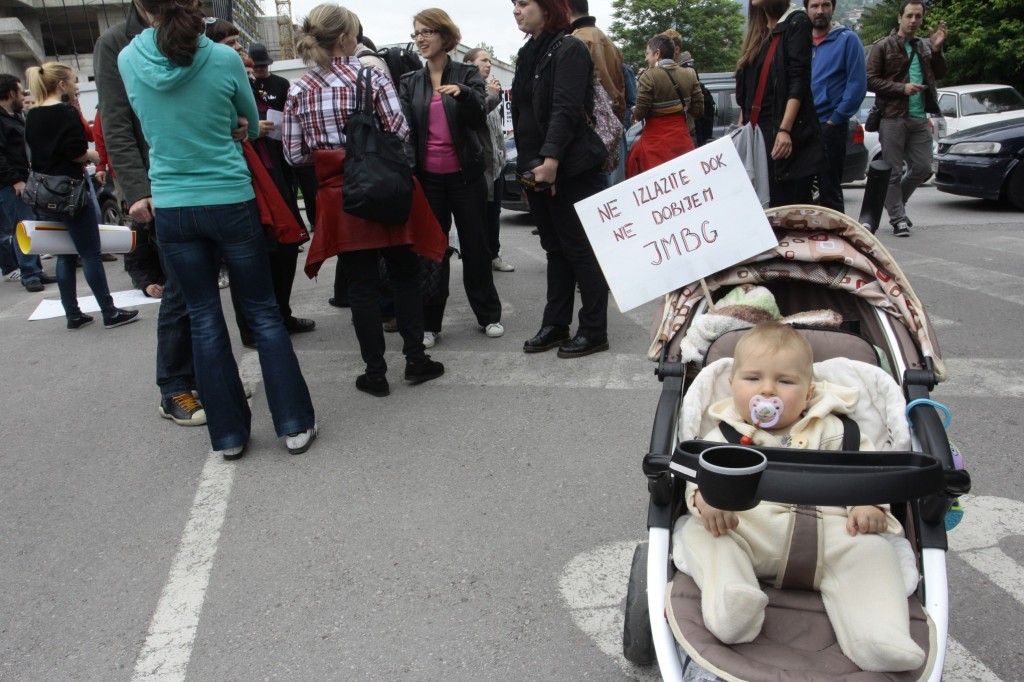 By Medina Malagić – Sarajevo
The recent death of baby girl Berina Hamidovic sparked a new round of mass protests throughout BiH and abroad. Protestors place full blame on the BiH political elite and state institutions for failing to listen to citizens who are demanding their basic human rights from their elected representatives.
Berina was born on 17 March and was diagnosed with tracheoesophageal fistula at anastomosis. As a result of this, she was unable to eat and after a failed surgery in Sarajevo, her parents sought treatment in Belgrade. Unfortunately, sine Berina did not have a unique master citizen number (JMB), the ambulance in which she was in was forced to wait for hours at the BiH-Serbian border.
Berina and her family were not able to immediately cross the border into Serbia because Sarajevo Canton did abide by the law, which obligates it to pay if an operation that cannot be done in BiH needs to be performed in another country. Also, her parents spent hours speaking with the Serbian border police to let them cross the border, since the Serbian border police was not even notified on time by BiH officials of the urgency of her condition.
A vigil was held in front of the BiH Parliament building last night in Sarajevo with the attendance of more than one thousand citizens, who lit candles and paid their tribute to Berina.
The death of Berina is the first tragic consequence of the failure of BiH politicians to reach an agreement on what is considered a typical administrative issue in many other countries. Unfortunately, in BiH the distribution of ID numbers has created a stalemate among BIH politicians, who continue to assert the status quo whose very survival is dependent on maintaining ethnic divisions among BiH citizens.
18 years since the end of the conflict in BiH, one of the consequences of the lack of a state law on the unique master citizen number has been the rare unity among BiH citizens of various national, ethnic and/or religious affiliations. It is an issue that carries with it universal symbols, as the mothers who arrived in front of the BiH Parliament with strollers resonated throughout BiH and the world. This was a clear demonstration that this issue affects every citizen of BiH, and it becomes even more conspicuous that ethnic and religious differences do not play a role here.
A number of protests took place throughout BiH, as citizens came out on the street to express their support and outrage. More than a thousand citizens from Mostar gathered together today at the main square, and a huge banner that said "JMBG" hung over the old bridge. Activists from different non-profit organizations arrived, including many from different cities throughout BiH.
Last night, citizens from Mostar and Tuzla held vigils for Berina. Citizens of Mostar gathered in front of the FBiH government building, while citizens of Tuzla were out in the main square. Candles were lit and a moment of silence was held in Mostar and Tuzla.
The protests and Sarajevo and the tragic death of Berina attracted the attention of regional and global media, who all have levied heavy criticism against the BiH administration for holding BiH citizens hostage, and have said that Berina is the fist victim of the politicization around the issue of an ID number. The expressed unity of BiH citizens around this issue has also been highlighted in global media, which has been described as a struggle against institutions that have left the country paralyzed and unable to initiate progress and reform due to the laziness of BIH politicians who continue to capitalize on ethnic divisions to maintain their tight grip over the country and its citizens for their own personal interests.
The protests will continue tomorrow with a concert that will start at 17:00 in front of the Parliament in Sarajevo with performances by several well-known BiH bands called "Protest with the support of BiH bands".