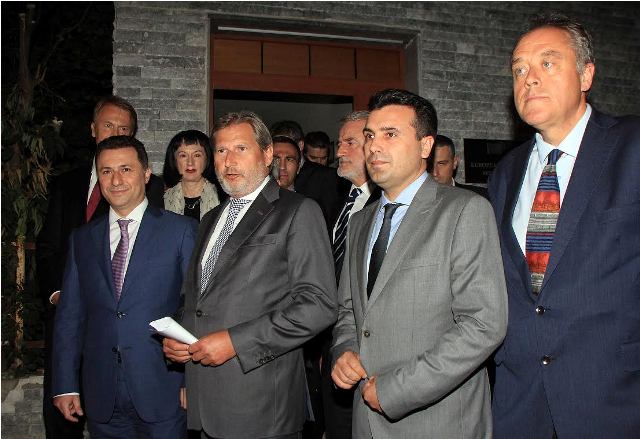 Skopje, 15 July 2015/Independent Balkan News Agency
By Naser Pajaziti
A deal was reached in the early hours of Wednesday for the solution of the political crisis in FYROM.
EU Enlargement Commissioner, Johannes Hahn, who brokered the talks in Skopje, declared after the meeting that a deal was struck and that the country will head to fresh elections.
"We have an agreement which has been signed by political leaders. I'm happy that a deal was reached, as this gives way to the integration of the country in the EU and NATO. We must be proud of these leaders", declared European commissioner Hahn from Skopje.
Meanwhile, British MEP, Richard Howitt, who was part of the negotiations, wrote on Twitter that based on the deal, the opposition must return to parliament, a new interim government will be set up and fresh elections will be held.
The Agreement
In the early hours of the morning, PM Nikola Gruevski and opposition leader Zoran Zaev have held separate news conferences to issue details on this agreement.
Based on this agreement: opposition will return to parliament on 1 September, a special prosecutor will be appointed to investigate the wiretapping affair until 15 September, Nikola Gruevski's government will resign 3 months prior to the elections or until 15 December 2015, an interim government will be set up, which will hold the early elections on 24 April 2016.
But, according to Gruevski, under this agreement, his party, VMRO-DPME nominates the PM, but by consulting other parties. Meanwhile, SDSM will be given the Ministry of Interior.
Under this agreement, other ministries will also be divided between the main parties, while deputy prime ministers will have the right of access and veto in all ministries regarding matters relating to elections. As of September, political parties are obliged to approve the package of reforms for the elections and other issues that give way to euroatlantic integration of the country.
SDSM leader, Zaev, said that the opposition attained its goal.
"Elections, demanded by the opposition, will be held on 24 April 2016 and the citizens will be able to vote freely and democratically the new government of the country", Zaev said, adding that the victory will belong to the opposition and the citizens of this country.
However, Gruevski said that his party will win the elections again and that this victory will be historical. He accused the opposition of fearing the April elections.
Albanian political parties have not commented the agreement and it's not known if this agreement will include issues that have to do with Albanians and the full implementation of the Ohrid Agreement. /ibna/