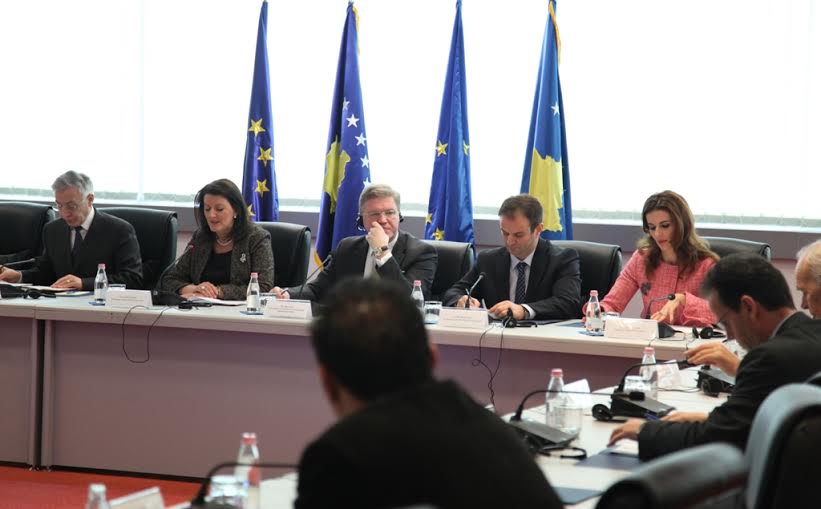 By Kyriacos Kyriacou-Nicosia
Services company, Halliburton, has agreed with the Cypriot government to provide supportive services in the hydrocarbon exploration process within the country's Exclusive Economic Zone (EEZ). The company made on Friday its presence in Cyprus officially known.
Senior company officials were received during the day, at the Presidential Palace, by Cyprus President Nicos Anastasiades in the presence of Minister of Energy Yiorgos Lakkotrypis.
In statements after the meeting Lakkotrypis welcomed the international company to Cyprus.
"It is with great pleasure that we welcome in our island such an important company which will provide supportive services in the hydrocarbon exploration process within Cyprus` Exclusive Economic Zone (EEZ)", he said.
Vote of confidence
He added that the presence of a company of that caliber in Cyprus constitutes a vote of confidence in Cyprus and its prospects, for the Cypriot economy, something which is much needed.
The Cypriot Energy minister further said that discussions with the company had been ongoing for some time, adding that President Anastasiades was personally involved.
"We concluded and now the company can proceed with planning its operations in the island,"he noted.
Replying to a question, he explained that there was no agreement as such but rather the company`s decision to establish a base in the island.
He reiterated the government`s position that in the short term, growth will come from this type of supportive activities. He further said that there are other things in the pipeline which he hopes will be announced soon.
"It`s a pleasure to be here in Cyprus today at the start of our operation to support our customers in the country of Cyprus in the ongoing efforts to hopefully produce oil & gas here in the Mediterranean", Halliburton`s Senior Vice President for Europe and the Sub Saharan African Region Mark Richard.
He thanked the government of Cyprus so far "for their tremendous support and hospitality in helping us to get started here in the country".
"Hopefully this is the start of many good years to come", he said.
Replying to a question, he said they are going to build a base of operations in Larnaca.
Asked how many people they expect to employ, he said that will depend "on how much work we actually win from competitive tenders with our customers but it will be considerable at one point in time".
Reliable sources have suggested that Halliburton is expected to complete the construction of its facilities within the next two months. It is in talks with universities which offer relevant courses in Cyprus.
The same sources say that another company which is active in the same services sector, Schlumberger is also in talks with the government.