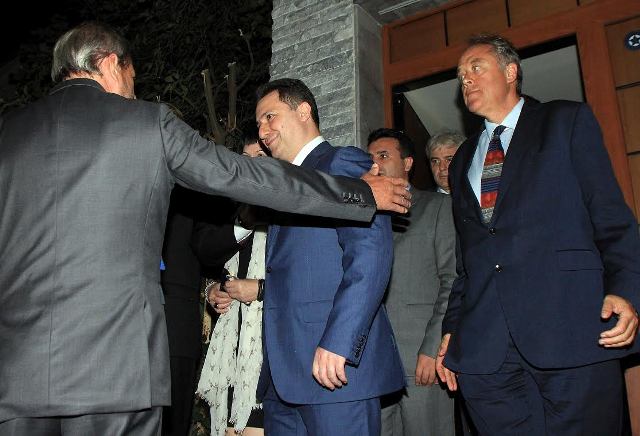 Skopje, 16 July 2015/Independent Balkan News Agency
By Naser Pajaziti
The deal reached by the leaders of the four main political parties in FYROM for the solution of the political crisis is considered as a new risk and challenge for the political situation of the country. While this agreement has been praised with optimism by the international community, which assisted this agreement, domestic political players are suspicious about its implementation. Some political parties have considered this deal as a deal which protects the interests of the leaders of the main political parties. Other concerns relate to the fact that this agreement can produce political conflicts and crises, especially as a result of the division of responsibilities in the interim government, which will be formed 3 months prior to the elections.
Stojan Andov, former speaker of the Parliament of the country and a veteran politician, said that what counts in this agreement is its implementation according to its deadlines.
"All political parties must be serious in approving laws which guarantee free and democratic elections on 24 April 2016. It will not be easy. People with high integrity must be appointed in the new interim government and no party militants", Andov said.
Andreja Stojkovski from the European Macedonian Center hopes that the international community will not allow this agreement to be deformed.
"International agreement is losing its patience. This could also be seen in their efforts in order for this agreement to be reached. I don't think that the deadlines for the implementation of the agreement will be respected, because it's a short period of only three months, however, the assurances given by the EU and USA may take the process forward", Stojkovski declared.
Meanwhile, citizens hope that this agreement will be implemented and that this will give way to development and employment.
Leart S, a student from Skopje told IBNA that the agreement must be implemented entirely, in order not to waste any more time. "I hope that with the help of the international community, things will move forward. Enough with crises and problems. We, the youth, want jobs, development, a better life and not leave the country", Leart S declared.
Under the agreement that was reached, the new government must be formed in 15 January 2016, while PM Nikola Gruevski must leave office at the end of December. /ibna/