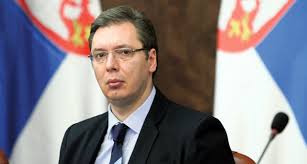 By Milos Mitrovic – Belgrade
"There are numerous reasons to reject the Brussels agreement. It seems to me that I could mention more reasons against the agreement than anyone from you have done. But there is one good reason to accept the deal. The agreement represents the only solution for Serbia to subsist and for Serbs to stay united", Deputy Serbian Prime Minister Aleksandar Vucic said on Sunday evening.
Vucic met the heads of four Serbian municipalities from northern Kosovo and more than one hundred Serbian councillors, which are opposed to the agreement about the normalization of relations between Belgrade and Pristina. The agreement had been initialled in Brussels under European Union auspices on April 19th.
Serbian Government and the Parliament supported the agreement, as well as the representatives of other Serbian Municipalities in Kosovo. However, the implementation of the agreement could be jeopardized if municipalities from the north keep opposing it.
The implementation of the agreement is the main precondition for the beginning of Serbian EU membership negotiations. Serbian Government expects that EU Council would grant the date for the start of negotiations during its summit which is to be held on June 28th.
"In the past we have been trying for many times to be stronger (nation) than the strongest. Numerous times we tried to destroy ourselves, and we were pretty successful in such enterprises", Vucic said in Mitrovica in order to persuade his collocutors to accept the deal.
However, the representatives of four municipalities temporarily left the meeting.
"Kosovo Serbs are willing to continue the cooperation with their own country. However, the fact that we have to accept the Constitution of Kosovo, as it had been defined by the Brussels agreement, created a deep and insuperable gap", Slavisa Ristic, head of Zubin Potok Municipality told reporters after the meeting with Vucic. Ristic added that the other details of the Brussels agreement could be the subject of the talks with Belgrade.
"The solution different from the integration of Serbs into an independent Kosovo should be found. Brussels and Serbian Government should understand that they could not forcefully persuade the people to accept the independence of Kosovo", Ristic rendered. On the other hand, top Serbian officials insist that Kosovo independence had not been recognized by initialling the Brussels agreement.
Marko Jaksic, alderman from the Democratic Party of Serbia of the former Serbian PM Vojislav Kostunica, said that the Brussels agreement represents "a creation of an Albanian state with the acceptance of Serbia".
Approximately one hundred people gathered at the protest near the building where the meeting was held. "Betrayal", "Kill Vucic", they shouted.