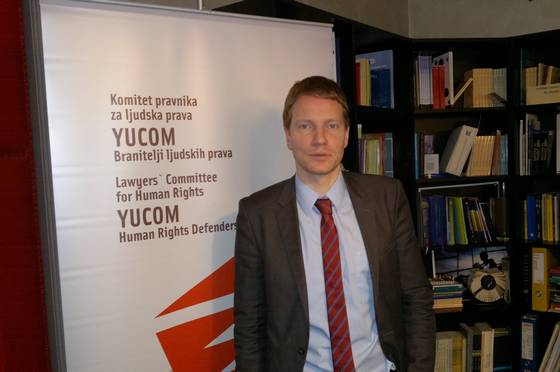 By Milos Mitrovic – Belgrade
"Pedophilia, lust, gluttony and war propaganda had been some of the sins committed by bishops of the Serbian Orthodox Church (SOC) Vasilije Kacavenda, Pahomije and Filaret. However, nobody from the Church had ever paid appropriate attention to these cases, as well as Serbian judiciary", Belgrade daily "Blic" stated in one of its numerous recent reports about the unresolved scandals related to some members of SOC high clergy.
"Serbian Orthodox Church has to clarify its attitude about all these cases. Otherwise, Church cannot ameliorate its reputation, on the contrary", Milan Antonijevic (photo) , director at Lawyers' Committee for Human Rights commented.
All the "sins" committed by bishops mentioned above had been well known in Serbian public. However, state institutions were not ready to focus on resolving the clergy scandals, and the results of related polls consistently kept showing that SOC was one among the most popular institutions in Serbia.
Prime Minister Ivica Dacic has recently criticized the Church, after SOC`s Holy Synod demanded that he should reject the deal about normalization of relations between Belgrade and Pristina. However, Dacic recalled that he had never criticized the Church and promised that he would not "betray Kosovo". Dacic has also visited Patriarchy, together with other Serbian top officials including President Tomislav Nikolic, after the eighth round of negotiations with Pristina had failed two weeks ago.
That meeting represented some kind of consultations between top officials and the Church with most followers in Serbia about political negotiations with Pristina.
Ecclesiastical Court had never put pedophilia accusations on its agenda. A commission that had been formed ten years ago represent an exception. The commission constituted of bishops had been investigating the case of Pahomije. However, their findings had never been published.
Due to alleged harassment by bishop Vasilije, Milic Blazanovic, young theology student, committed suicide in 1999. The legal action had been launched  only in 2012; the same accusations repeated former deacon Bojan Jovanovic. A video displaying Vasilije having sexual intercourse with four young men had recently been shown to Synod of SOC. The pomp in bishop's residence in Bijeljina (Bosnia and Herzegovina) has been compared with the luxury of Versailles.
Bishop Pahomije had been accused for sexual abuse of four minors in the period of 1999 until 2002; in two cases the accusations had been dismissed due to "the lack of evidence" and two other experienced limitation of legal proceedings. Prosecution from town Vranje in the south of Serbia opened a new criminal pursuit against Pahomije due to his alleged sexual abuse of the former episcopal storekeeper.
Bishop Filaret is famous for his photos with a machinegun in his hands made in Croatia during the war in 1991, as well as for his friendship with Vojislav Seselj, who is currently been tried for war crimes at the Tribunal in Hague.  Similarly as Vasilije, Filaret has never economized with the apparel of the bishop's residence in Prijepolje, even though that area is among the poorest in Serbia .
In May, SOC will discuss the retirement of bishop Vasilije, who had already asked Synod to leave active service in November 2012. Synod accepted his retirement in principle. If he retires, that would be the precedent which would make possible the retirements of Pahomije and Filaret.