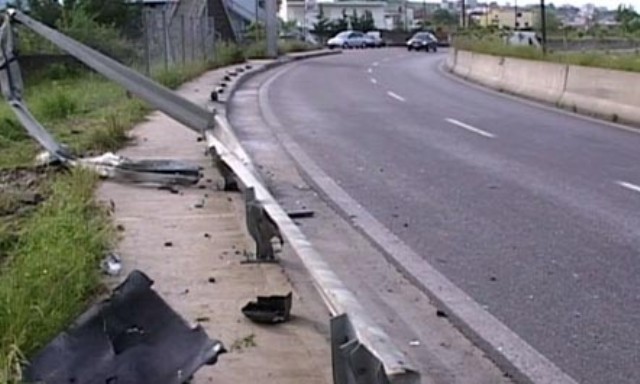 Tirana, 23 May 2016/Independent Balkan News Agency
By Edison Kurani
Several serious accidents have recently occurred in Albania, claiming the lives of little children and young girls and boys. The main causes of these accidents relate to the low safety measures, missing road signs and other problems that relate to the road infrastructure of the country.
The experts' findings have been associated with the arrest of several officials of respective institutions.
The latest accident has caused debates which have led to an open clash between the ministry of Transport,  led by Edmond Haxhinasto and State Police.
The accident in question relates to the death occurred two weeks ago of two children in the highway linking Durrres to Kavaja and Rrogozhina. A woman was driving her three children to the prison of Rrogozhina to visit their father who was jailed for making repairs without permit in his home. On their way back, they suffered a terrible accident that claimed the life of two children, 3 and 5 years old and caused serious injuries to the 1 year old baby and their mother.
In the recent hours, two young men died in the same highway and four others remained injured.
Asked on road safety, minister Haxhinasto criticized State Police. Haxhinasto said that police presence on the road must be higher the improvement that roads have seen recently could encourage higher road speeds.
"In several segments, there have been serious accidents. The improvement of the road standard could encourage people to drive faster and ignore the fact that they must not violate road regulation. The road safety issue is without any doubt a matter of road standards, investments made on it and so on. It is also a matter of road policing and I believe that there's a need to increase police presence on the roads", Haxhinasto said.
State Police has a different opinion from the minister. In an issued statement, Durres Police Directorate has stressed the lack of safety on the road as the cause for the accident that led to the death of the two young men and the accident with the two children. According to police, the side barriers didn't meet any standards. Therefore, police have launched a lawsuit for the administrator of the company which was contracted to maintain this road. Police experts said that if the barriers met the necessary standards, they would keep the vehicle on the road and the young men would not have died.
Police suspect that the failure to put the barriers conceals a corruption affair. Based on these suspicions, the case has been taken over by the Anti-Corruption Unit at the Durres Police. The contracting firm has obtained a tender of several million ALL from the Albanian Road Authority in order to maintain and secure this road segment. Police say that the company has breached the terms of the contract, by not complying with the technical conditions, while the Albanian Road Authority, which depends on the ministry of Transport, has not taken any measures. /balkaneu.com/