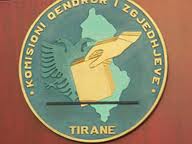 Tirana, April 24, 2013
The legal deadline for the registration of electoral coalitions in the June 23 elections will expire this evening at 6 pm.
The two large political camps, the Democratic Party and the Socialist Party have concluded their agreements with small parties and are expected to submit today at the Central Election Commission the full coalition lists.
Yesterday, the Democratic Party and its allies formalized the pre electoral coalition under the name "Alliance for Employment, Wellbeing and Integration". This alliance led by the Democratic Party counts 25 right winged and center parties and promises to continue the reforms and improve the quality of live in the country.
The Socialist Party formed its "Alliance for a European Albania" coalition by signing agreements with over 35 political parties, where the most important one was that with the Socialist Movement for Integration, which opens a new chapter in the cooperation between these two left winged political parties.
The New Democratic Spirit has declared that it will enter these elections on its own, while the Red and Black Alliance has not issued a final positioning.
The regional proportional system which is applied in Albania favors the wide alliances and this was proved in 2009. Four electoral coalitions raced in the 2009 elections. The "Alliance for Change" was the largest formation with 10 right winged parties; the left coalition "Unity for Change" had 5 political parties, while "The Pole of Freedom" Alliance and the "Socialist Alliance for Integration" had grouped 6 parties each. /ibna/