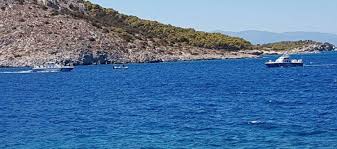 Athens, August 16, 2016/ Independent Balkan News Agency
By Spiros Sideris
Coast Guard pulled one more body from a depth of 20 meters in the area where a speedboat crashed on a vessel carrying 20 tourists onboard in Aegina earlier on Tuesday, as the search and rescue operation continues with the assistance of a military helicopter to locate the missing passengers of the tourist vessel.
The other three people killed are the vessel's helmsman, a five-year-old toddler and a man whose identity is not yet clear. According to the latest information, 25 people were onboard the tourist vessel of whom 21 were rescued. Six people have been injured, two of whom seriously, and airlifted to a hospital in Athens.
According to the authorities, the eight-meter speedboat that collided with the tourist vessel carried three people on board who have been taken to the island's coast guard. The owner of the speedboat was arrested and is now testifying before coast guard officials who are conducting the investigation. It is not yet clear if he was driving the boat. According to the first indications, the speedboat slammed on the other vessel at a high speed, cut it in half and overturned it.
Shipping Minister Thodoris Dritsas is heading to Aegina.
Source: AMNA