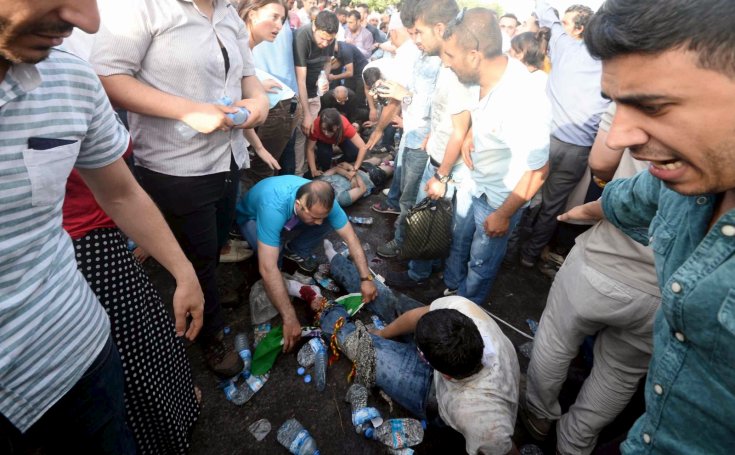 Ankara, June 6, 2015/ Independent Balkan News Agency
By Manolis Kostidis
The Kurds of Turkey are deeply troubled after the explosions that took place Friday night at an election rally of the pro-Kurdish HDP party in the city of Diyarbakir in southeastern Turkey. Of the two people were killed and at least 150 others were injured. At the election rally of the leader of HDP Selahattin Demirtaş had gathered tens of thousands of Kurds.
At first, the Turkish authorities spoke of an explosion to the electricity network adapter, but the country's Energy Minister Taner Yildiz said the team of technicians that rushed to the spot said that the blast did not come from a malfunction of the transformer. Without announcing it, the authorities are implying the existence of an explosive device.
Turkish President Recep Tayyip Erdogan spoke of "provocations" just hours before the Parliamentary election on June 7.
Demirtaş had complained several times that the HDP was being targeted in many parts of Turkey. On May 18 there had been two simultaneous explosions, at party headquarters in the cities of Adana and Mersin, where 6 people had been injured. The police had revealed that the explosions had been caused by bombs that had been sent by parcel post!
In southeastern Turkey there is intense rivalry between the PKK and the Hüdapar, the organization consisting of Islamist fanatics Kurds.
In October 2014, when there was the risk of Kompani "falling" to the hands of the Islamic state, Erdogan had stated that "Kobani will fall at any moment". This statement had led the Kurds take to the streets, where they clashed with members of the Hüdapar, resulting in 50 people losing their lives.