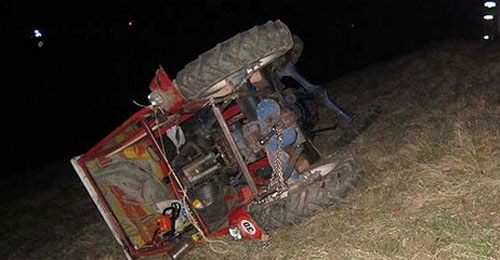 Skopje, May 2, 2013-Two dead and 12 wounded has been the toll of an accident taken place last night near the town of Koçan in the southeastern part of FYRO Macedonia.
The accident has taken place when due to carelessness and speed, a tractor with 2 elderly persons and 15 children, overturned.
The driver of the tractor, Mile Davitkov, 63 years of age, died on the spot, while the second victim is a woman, who died in the Clinic of Skopje.
The majority of the wounded persons are children and 12 of them have been admitted in the Central Clinic of Skopje. Doctor Venko Filipçe said that the majority of children have been seriously wounded and are in a state of coma.
The accident took place last night while the children, accompanied by two elderly people from the village of Gërdovc of Koçan, were returning in their homes, after spending a day out on the occasion of May Day. The wounded victims have been visited last night in the ER of Skopje by Prime Minister Nikola Gruevski and the Minister of Health, Nikola Todorov. /ibna/