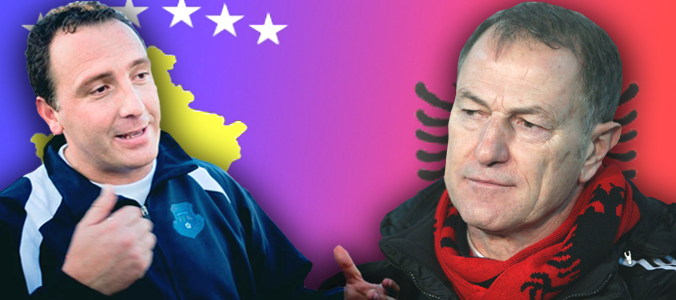 The accusation comes from the Kosovo national football team's manager, Albert Bunjaku
Tirana, 18 July 2016/Independent Balkan News Agency
Albania and Kosovo have been involved in the first and the only debate accompanied by mutual accusations between institutions.
The conflict in question is between the Albanian Football Association and Kosovo's Football Association, namely between the two managers of the national sides.
Kosovo's national team manager, Albert Bunjaku has expressed his discontent against his counterpart in the Albanian national team, Gianni De Biasi, as according to him, pressure is being made on Kosovar football players who play for the Albanian national side, to continue and play for it.
The media has reported that De Biasi has contacted by phone all the Kosovar players who play for the Albanian side.
This was announced by the coach of Kosovo's national side, Albert Bunjaku. He says that this is open pressure and that such thing was not expected by Albania.
Bunjaku says that this pressure has not been well received by Kosovo's players. They have contacted him after De Biasi's phone calls, expressing their concern about the pressure that they have faced.
"The players have been contacted by De Biasi to confirm if they would continue or not to play for Albania. They have been asked to decide immediately. The players, which I have contacted too, have felt very bad. I don't think what he has done favors anyone. Without a FIFA decision, this isn't a good thing for Albania's and for Kosovo's football. I don't know what should the players decide on when they have no choice to make, as a response has not been received as to whether they are entitled to change team or not", says Kosovo manager, Albert Bunjaku.
Meanwhile, the Albanian side manager, Gianni De Biasi, has not yet issued any comments on these declarations. A while ago, in February of this year, he had announced the existence of an agreement with Kosovo football authorities.
"50% of the national team are players from Kosovo, who have chosen to play for Albania. Once Kosovo is recognized by FIFA, nobody will leave the Albanian national team. We have an agreement with our friends and brothers from Kosovo, according to which, those who currently play with Albania, will not be called by Kosovo", said Gianni De Biasi.
There have also been debates on this issue in the past, but Kosovo has now been admitted in the UEFA and FIFA, therefore the issue of football players who will play with the national sides will be more and more present. /balkaneu.com/