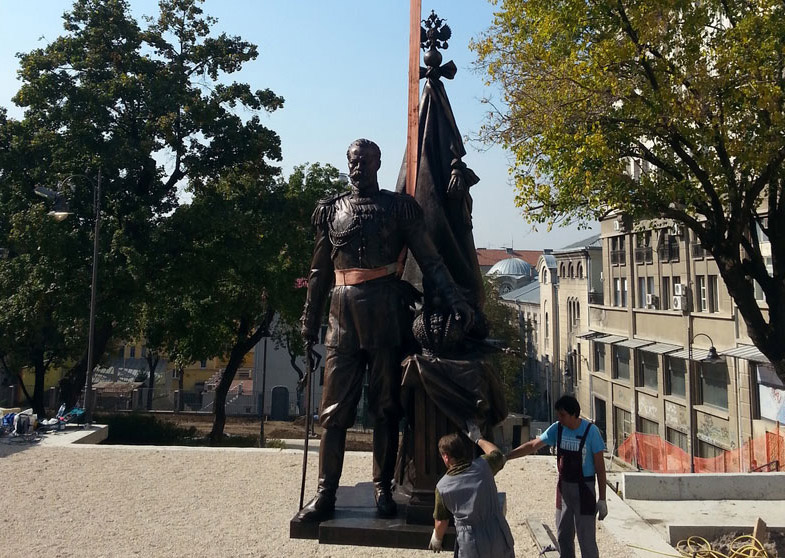 By Milos Mitrovic – Belgrade
Four days after Russian President Vladimir Putin has visited Belgrade to mark 70 anniversary of Serbia's capital liberation from Nazis, attend military parade but also signing several bilateral agreements, manifestation "Days of the Russian spiritual culture in Serbia" starts.
The festival starts today with concert of the Russian state ensemble "The Cossacks of Russia. The concert is dedicated to Belgrade's liberation in 1944, the cultural office of the Russian House in Belgrade explained.
All the events which will last until 27 October – including the concert of the Moscow synod monastery and exhibition "Russia by the view of children" – are organized by the Russian Federation's Ministry of Culture. The concert of the home for girls orphans "Otrada" and the conference on the centenary of the Great War's outbreak are also included.
The works which will be exhibited are made by children from Russia.
All the events will be held in the Russian House.
"Through the centuries, it has been proven that Russia and Serbia are always ready to mutual help and support; this year there is a plenty of the official events which confirm the cooperation of the two countries in the different domains", Russian House stated. "One of the most important events is placing the monument of the czar Nicholas II (Romanov) to whom Serbian people is thankful for his support in the First World War".
The monument has been erected in Belgrade earlier this month. It was funded by Russia. Russian Orthodox Church Patriarch Kiril is to visit Serbia, including Kosovo, in November. Tsar's monument will also be presented to Kiril.
Photo: Monument of Nicholas II in Belgrade (by "Vecernje novosti" daily)