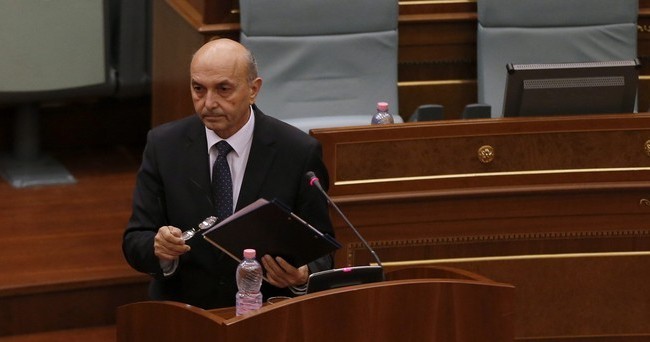 IBNA Special Report
Pristina, March 10, 2015/Independent Balkan News Agency
By Elton Tota
Opposition and analysts have launched criticism concerning the first three months of PM Mustafa's government in office. They say that the governing coalition between the Democratic League of Kosovo and Kosovo Democratic Party has made no positive steps in terms of economic development, reformation of the justice system, education, international recognition, etc.
Leader of the Alliance for the Future of Kosovo, Ramush Haradinaj, says that PM Isa Mustafa is governing without a program and without concrete strategies in order to address issues that he promised during the electoral campaign, such as economic development, fight against corruption and organized crime.
"100 days have gone by and we're not seeing a government plan. The youth has abandoned the country, while the new state has more problems and challenges. The Prime Minister of the country is the head of the construction mob in Pristina. With his election in the post of PM, 100 thousand people abandoned the country", Haradinaj says.
He stressed that the government has failed in attaining its objectives.
Leader of Self Determination, Albin Kurti, says that he fears that the new government, may not be after all a new government. According to him, this government has old members with old mentalities.
"It's not a government, it's only one administration that works for the Brussels' dialogue in one hand and for two enterprises on the other. One of them is "Bechtel Enka", which brings us expensive roads. The other enterprise is "Limak-Calik" privatized the distribution branch of Kosovo Power Corporation and also took Pristina's Airport", Kurti says. He stressed that unemployment and poverty come as a result of the wrong economic policies that have been followed.
"We are poor and we have high unemployment due to the wrong economic model that has been followed and that it's based on privatization and asphalt, without any strategies for development. For 15 years we've had a right wing government with liberal policies and I believe that time has come for Kosovo to try social democracy", he says.
Fisnik Korenica from the Group for Political Studies says that in these 100 days, PM Mustafa has managed to consolidate the management of his government to a required minimum.
"After only 100 days, Mustafa's government was able to bring to the public a minimum government program, something which he should have done at the moment that his cabinet was voted in parliament.  Let us not forget that such government program affects many important domains of European reforms, such as rule of law and relations with international mechanisms", says Korenica.
Korenica says that for Mustafa, the fact that he has a cabinet that he cannot control politically, is a problem.
"We're seeing a very slow pace with which the government is addressing European reforms. As far as eventual successes are concerned, this government has attempted to make several interventions in fiscal and budgetary policies, for which it doesn't seem to have the support of its coalition partner", says Korenica, adding that Mustafa's government must work hard to convince the public that it's able to govern.
PM Isa Mustafa has rejected this criticism claiming that the government that he leads has its plan and strategies for the development of Kosovo.
The program presented by Mustafa has five priorities, starting from sustainable economic development, employment, social welfare of the citizens, rule of law, European agenda, education and health.
"I believe that this is a program of development, a program of hope for a better life, a program for the stability of every individual in our society and I believe that the foundation of this program consists of a job through which families may secure their life in the country. I believe that this program will meet the needs and demands of the citizens", said the PM. /ibna/