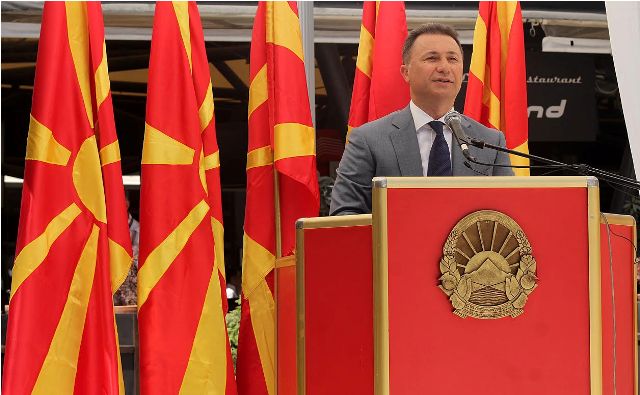 Skopje, 3 August 2015/Independent Balkan News Agency
By Naser Pajaziti
In FYR Macedonia, the country is celebrating August 2, known as the Uprising of Ilinden, a historical event taken place 112 years ago in the town of Krusevo against the Turks and the 71st anniversary of the First Meeting of the Anti-Fascist Committee of the Liberation of the country. These two public holidays are being celebrated separately from the government and Macedonian opposition.
On the other hand, Albanians do not celebrate this holiday, as according to them, it's considered to be a historical date exclusively for the Slav-Macedonian community.
This day was used by politicians n the country to convey nationalist messages, linking them to the current developments in the country.
In his address, PM Nikola Gruevski declared that the war of their national ancestors is an encouragement to fight today for a stronger state and a happier and more powerful nation.
Gruevski also talked about issues of security. He said that terrorism is on the doorstep, mentioning here the police operation in Kumanovo.
"Like the rest of Europe, we're also threatened by terrorism. Radical groups make open threats and every once in a while, they act. We must strengthen our capacities in tackling them and managing them. The events taken place in Kumanovo a while ago and the sporadic cases of bombs or grenades, are just a warning that this kind of threat is not far from us. They can come to our doorstep and threaten our lives and our loved ones. We must not be passive in these developments and we must operate in an active and preventive way", Prime Minister Nikola Gruevski said.
According to Gruevski, EU and NATO integration would be a third Ilinden for FYROM. But according to him, the integrating process is being blocked by Greece.
The president of the country, George Ivanov called for collaboration and dialogue between political parties, while underlining that domestic issues must be solved through the intervention of international community.
Invanov said that the political crisis has left marks in many domains, including security with police operation in Kumanovo on 9 and 10 May, while threatening the European perspective of the country.
Leader of Macedonian opposition SDSM (Macedonian Social Democratic Union), Zoran Zaev has also addressed a message for all the citizens of the country, demanding unity and civil responsibility.
"United and driven by hope, we will manage to overcome all challenges that modern Macedonia faces. Let us restore the fundamental values of democracy. Our country needs a fair society of the free people, economically stable and happy", Zaev declared, avoiding nationalist tones.
Albanian political parties have not commented or greeted this national day. No Albanian official or representative of any party have participated in the celebrations taken place in Krusevo or in the Pelinca mount in Kumanovo where wreaths of flowers are placed in the cemetery of the partisans who fell in the Second World War.
In past years, this national day has prompted debates and has not been unifying for the ethnic communities. /ibna/