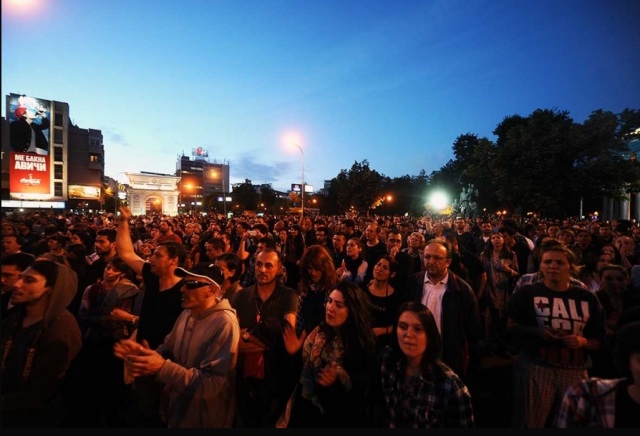 Skopje, 8 May 8, 2015/Independent Balkan News Agency
By Naser Pajaziti
Some thousands of citizens protested last night for the third night in a row in Skopje and other cities in FYROM against police brutality, demanding the government to resign.
The protests held last night were quiet and without incidents and the number of protesters was smaller.
Police forces didn't allow protesters to gather in front of the government building and the public prosecution and after this, the crowds have moved toward parliament where they have remained several hours.
Protesters have called for the government and PM Nikola Gruevski to resign, chanting messages such as "Murderer", "Step Down", "If there is no justice, there is no peace", etc.
Uranija Pirovska, head of the Helsinki Committee for Human Rights has strongly reacted against police, which has not allowed for the protest to take place in front of the government and prosecution. "The Constitution allows us to protest, but what's happening is total totalitarianism", said Pirovska in this protest.
During this protest, protesters have also blocked several crossroads in the capital. In front of parliament, women protesters were giving flowers to special police units and asked them to join their protest.
Similar protests were also held in Strumica and Prilep.
Last night was the third night of anti government protests, while fresh protests have been warned tonight in Skopje and Kumanovo, known to be strongholds of the Macedonian opposition.
Protests in FYROM follow the publication by the opposition of recorded conversations which shed light upon the murder of a young man by a member of security forces on June 5, 2011, but for this murder, Interior minister Gordana Jankulovska and PM Nikola Gruevski have allegedly concealed facts and evidence surrounding the murder. Protests are expected to be massive also following the publication of materials that relate to the death in contradicting circumstances two years ago of journalist and publisher of "Fokus", Nikola Mladenov. /ibna/