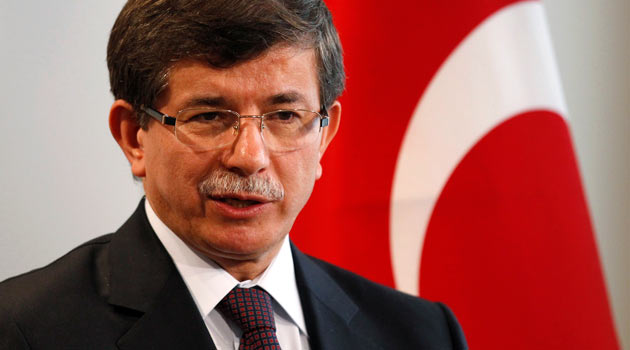 London, January 23, 2015/ Independent Balkan News Agency
By Thanasis Gavos
Ahmet Davutoglu's visit to London this week, on his way to Davos for the World Economic Forum, was bound to be dominated by references to the efforts to confront the ISIS (Islamic State or ISIL) threat.
During his visit to Washington, only a few days before receiving his Turkish counterpart at Downing Street, British Prime Minister David Cameron had reportedly disputed Ankara's policy and determination in confronting the jihadists in Syria, implying that they are seen by the Turkish leadership as a way to undermine President Assad's stranglehold on the neighbouring country.
Uncharacteristically harsh words against Turkey attributed to Mr Cameron by an Arabic news agency were not confirmed by any other western news agency or indeed the British government; nevertheless, the British PM took the opportunity of Mr Davutoglu's visit to reiterate London's insistence on the need for Turkey to do more in preventing foreign fighters crossing the border to Syria. Around 600 of these foreign fighters are British nationals, with around half of them believed to have returned on British soil, potentially planning Paris-style terror attacks.
The official statement by Number 10 read: "On tackling the threat posed by ISIL, the Prime Minister welcomed the improved co-operation on counter terrorism since his visit last month. And both agreed to further strengthen this co-operation, in particular on foreign fighters." Back in December in Ankara Mr Cameron was said to be quite pressing when he met Mr Davutoglu, in the wake of intelligence services' reports about Ankara's less than satisfactory control of its border.
Although some progress has been made to that respect, Ahmet Davutoglu was quite clear while in London that Turkey cannot or won't go it alone. "It's a 937-kilometre border, it's impossible to do. We can't put a soldier on every inch," an exasperated Mr Davutoglu told The Times. "We can, of course, declare the border a military zone and say that nobody will enter, but then the same people who are criticising us now will say that barbaric Turkey closed the border and people are being killed as a result. We will never do it," the Turkish PM added, pointing to the almost 2 million Syrian refugees on Turkish camps.
His admittance made an awkward reading on the eve of the 'small group' conference on fighting ISIL held in London on Thursday, where Turkey's Foreign Minister Mevlut Cavusoglu joined counterparts from another 20 countries to discuss the coordination of efforts, with emphasis placed on foreign fighters. After the conference, however, British Foreign Secretary Philip Hammond praised the "fantastic" work done by Turkey.
As all analysts would point out, this has to be a collaborative operation, meaning western countries need to identify potential fighters, prevent them from leaving Europe or pass on their details as soon as possible to the Turkish authorities. But the essence of the matter with regard to Turkey is the continuing doubt in Europe about how determined the country is to wholeheartedly join the fight against the Islamic State without any firm commitment by its allies to oust Assad.
In his address of a Wilton Park think-tank event just before he left London, Ahmet Davutoglu spoke of the need to offer the people of Middle Eastern and Maghreb countries "a third option" in government, something between the autocratic regimes and the terrorists. Although such a statement is absolutely sensible, it is expressed as part of Turkey's geostrategic games. On the other hand there is no real appetite in London and other western capital for the sort of action Ankara actively pursues or would contemplate, such as no-fly zones over the Turkish-Syrian border and joint military operations (on the condition of a unified decision to get rid of Assad).
This crisis seems to be revealing how both Turkey and its allies in the West have failed in dealing with both the radical Islamists and tyrannical regimes, to the expense primarily of Syrian people's but also, as Paris has proven, European citizens' security.