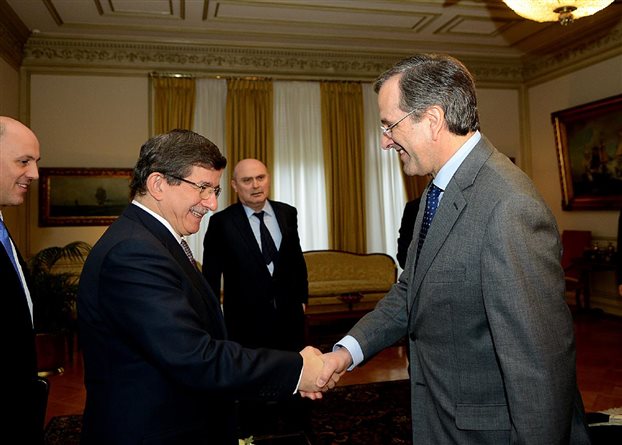 Expectations for significant developments in the Cyprus issue
By Manolis Kostidis – Ankara
Crucial is expected to be the meeting between the Prime Minister of Greece Antonis Samaras and his Turkish counterpart Ahmet Davutoglu in Athens on December 5-6. Cypriot and Turkish sources report that in the meeting's agenda is expected to be included the situation concerning the freezing of the peace talks due to the presence of the turkish research vessel Barbaros.
Meanwhile, US Vice President Joe Biden. who will visit Turkey today, spoke on the phone with Nikos Anastasiades and asked if he has a message he wants to convey to Ahmet Davutoglu and Recep Tayyip Erdogan. The Cypriot president reportedly stressed that he wants to solve the Cyprus problem and the continuation of the talks on the condition of the immediate withdrawal of turkish research vessel.
Ankara seems to be asking the determination of the share of the natural gas the Turkish Cypriots will receive and is imposing its view with the presence of Barbaros.
Nicosia considers this situation as blackmail and clarifies that the Cyprus problem must first be resolved, since in all the meetings it clarified that the revenue from natural resources will be allocated from the central government that will emerge after the talks and claims that no additional agreement is required.
Turkish Energy Minister Taner Yildiz stated that "in eastern Mediterranean there are natural gas deposit. These belong  to all the people of Cyprus".
The billion dollar projects operate on attractiveness. If it is beneficial a project in realised. Those who know are well aware if it is more profitable the gas to be transferred from "Southern Cyprus" to Greece and from there to Europe, or if it is better to be transferred from Northern Cyprus to Turkey. I think time will work in favor of the right project.
US Energy Secretary Ernest Moniz, who is visiting Turkey, stressed that "the gas to be mined in the eastern Mediterranean should be shared across Cyprus".