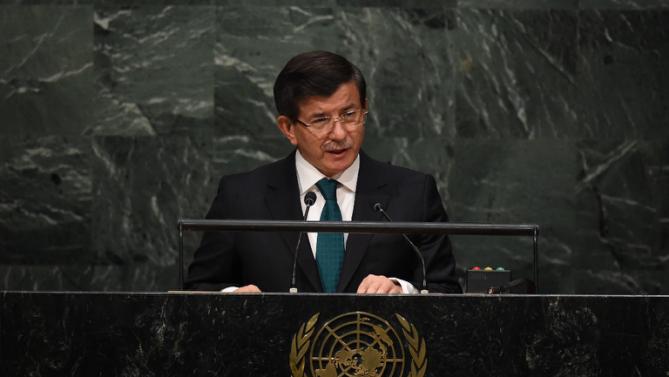 Ankara, September 29, 2015/Independent Balkan News Agency
"We want neither ISIS nor Assad"
By Manolis Kostidis
His opinion that to reduce the refugee wave from Syria "there must be a stop to the massacres of Asad and the refugee crisis must be resolved within Syria" expressed the prime minister of Turkey Ahmet Davutoğlu, who takes part in the UN General Assembly in New York.
At the same time, Davutoglu said that the transition period in Syria should start by trying to convince the people of the country "and nobody wants to return with Assad present. The right thing would be a controlled and manageable transition period that will bring about the departure of Assad", said the Turkish Prime Minister, indicating a change in the foreign policy of Turkey, which until recently called for the immediate overthrow of Syrian President.
The Turkish prime minister said that "with the cooperation of many countries and Russia, there can be a solution in the issue of Syria and the refugee problem" and stressed that "the in the future of Syria there must be neither Assad nor ISIS. He argued that "there is regular cooperation between ISIS and the Assad regime".
However, Turkey proposes the creation of three large refugee camps in Syria, which can accommodate a total of 900,000 people.
To deal with the refugee crisis Davutoglu has proposed to the European Union the creation of refugee camps on Syrian soil.
Specifically, the Turkish proposal includes the creation of three towns made up of containers, each of which will be able to shelter 300,000 people.
If the EU takes over the financing of this project, then Turkey can proceed with the construction of settlements in a protected area in northern Syria, he added.
So far no country appear ready to support the Turkish proposal, since it would be a blow to the sovereignty of Syria.