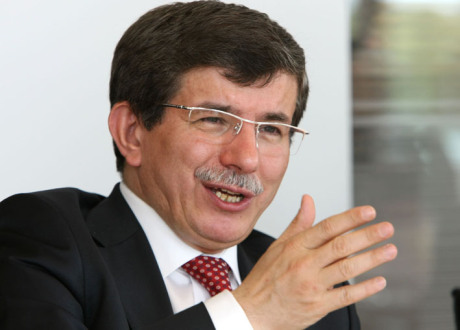 The Turkish prime minister speaks of a "presidency plan" based on the B&H model
By Manolis Kostidis – Ankara
Ahmet Davutoglu visited the turkish-occupied territories of Cyprus, and in an attempt to impress called Antonis Samaras "to drink tea" together in Cyprus!
"If the prime minister of Greece is ready let us first go together to the South part of the island to drink tea and discuss, and afterwards pass to the north of part and still be together. Let us build peace together", said the Turkish prime minister.
Draft settlement based on the B&H model
Davutoglu at a press conference after his meeting with the President of the pseudo-state, Dervis Eroglu, likened the formula to solving the Cyprus issue to that of Bosnia.
"If the Cyprus issue is resolved, I will visit the island again. I'm talking about an island which will have a Turkish or Greek Cypriot president. In both cases I will come. But do not think for a second that the Turks will recede from the request of alternate presidency. We will make a distinction who is president of Cyprus. In the same way we do not make a distinction in Bosnia and Herzegovina as to who presides; be that Bosniak, Croat or Serb".
In journalists' questions regarding information that in the turkish-occupied part of Cyprus there is a risk of jihadist activity of ISIS, the Turkish prime minister said that no such risk exists. However, he said "any threat or action will be considered an act against Turkey".
Davutoglu speaks of a "sharing" of Cyprus' natural gas deposits
Davutoglu referred to the project of water transfer from Turkey to the turkish-occupied area by undersea pipeline, a project that will be completed in a few months.
"Like we bring water to the island, we can also bring electricity and share it with the Greek Cypriots. In this way we can sell the natural gas to the global community so that both the Greek Cypriots and Turkish Cypriots will benefit".