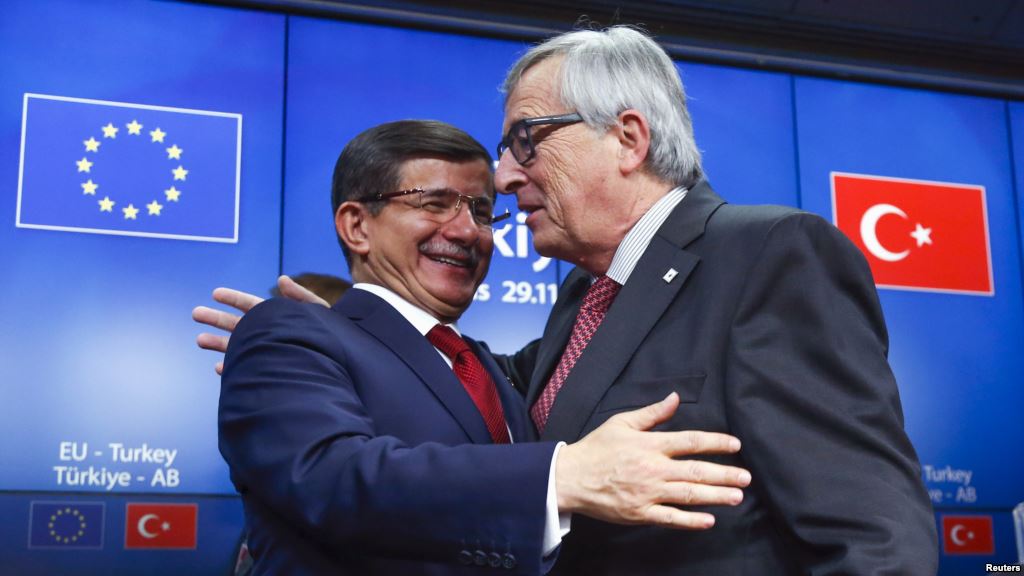 Athens, March 7, 2016/Independent Balkan News Agency
By Spiros Sideris
On Monday in Brussels will be held the extraordinary EU summit, with Turkey invited, in a bid to find (;) a solution to the refugee crisis that has caused tremors in the EU's unity.
Turkey, which is currently hosting more than 2.5 million refugees, has an obviously strong interest in this summit, not only because of the high "hospitality" cost of the refugees, but also because using as leverage the flow of refugees to exert pressure to Greece and by extension to the EU may request and receive not only assistance but also guarantees on a number of issues that concern it.
The open issues of concern to the Turkish Government are many and their solution difficult. Energy isolation, confrontation with predominantly Islamic states, stalemate and failure in the Kurdish problem, Greek-Turkish differences, the Cyprus problem and terrorism are issues that must be resolved.
The EU can provide assistance in several of these issues, in exchange with control of refugee flows to Greece. Turkey is redefining its position in the Eastern Mediterranean, after the "failure" to implement the Davutoglu doctrine.
The realism that characterizes the foreign policy of Turkey is redefining its relations with its neighbors, its allies and its "enemies".
Turkey wants desperately to function as an energy player in the region. Indeed, the adoption by the EU of the construction of TAP in Greece a few days before the meeting can't be seen as coincidental. The first "gift"? Having been excluded so far by Israel, Egypt, Cyprus and Greece in the transportation of gas, the TAP, which passes through Turkey and ends in Greece, is indeed a gift.
The TAP however is not enough for Turkey, since it wants the transfer of gas from Cyprus and Israel and this is connected to the Cyprus issue and the Greek-Turkish relations. At least this can be surmised from the mobility in both the Cyprus issue and Greek-Turkish relations.
On the other hand, allies to Turkey from other Islamic countries have been lost and its involvement in Syria has only served to deteriorate these relations furhter. A return to allies who need it (USA, EU) seems essential.
The Syrian "civil war", the activation of ISIS and the involvement of the Kurds against the aspirations of Muslim extremists, has revived talks for the creation of a Kurdish state, a scenario Turkey strongly opposes.
The options for the Turkish government are given and these are what Ahmet Davutoglu will go to Brussels to negotiate. Once again Turkey knows what it wants and will try to get as much as it can. Europeans are in a dire situation and have to concede. But how far are they willing to go?
According to reliable information of IBNA, Ahmet Davutoglu is preparing to present new proposals to his counterparts in the EU. And as circles in the Turkish Foreign Ministry told IBNA, the proposals of the Turkish side will be substantive and promising for all parties.