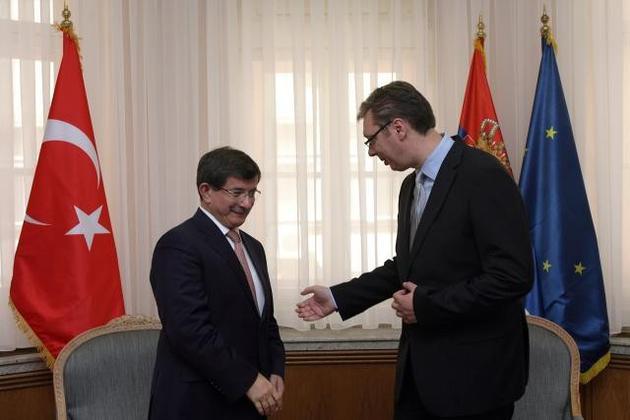 Belgrade, December 28, 2015/Independent Balkan News Agency
By Milos Mitrovic
The people and government of Serbia can be certain that Turkey's approach to bilateral relations will be with the highest consideration of Serbia's best interests, Turkish Prime Minister Ahmet Davutoglu said ahead his two-days official visit to Serbia which starts today.
"Our efforts to establish closer cooperation within the framework of Turkey-Serbia-Bosnia Herzegovina Trilateral Trade Committee demonstrate our commitment to promoting Serbia's integration with its region and Europe. For instance, in January 2016, we envisage to open a joint Serbia-Bosnia Herzegovina Trade Office in Istanbul, thanks to the generous aid of our business community. All such steps are taken in light of our firm belief in Serbia's indispensable role as a guarantor of peace, welfare and stability in the Balkans", Davutoglu said in the interview for Serbian daily "Danas".
According to Turkish premier, the Balkan states are in the period of "revising the subversive pattern" of mutual relations and neighborhood, after 1990's painful experiences. "Re-visiting the bilateral relations and reviving collaboration are two main facets of this new understanding. Serbia has taken the lead within this context. We appreciate the Serbian Government's efforts to launch and maintain rapprochement with its neighbours, based on its constructive position", Davutoglu underlined.
In his words, relations between Serbia and Bosnia are strategically important for the future of the Balkans. "Despite the controversies on some issues that are mainly the remainders of the past, we welcome mutual constructive steps. PM Vucic's participation in the 20th anniversary commemorations of Srebrenica and the subsequent visit to Belgrade by all three members of the Bosnian Presidential Council have sealed this rapprochement process with reciprocal good will and constructive intention".
Turkish PM stresses the importance of rapprochement of Serbia and Albania. "Following the high-level visits by both sides, we are pleased to see the continued dialogue. We consider this mutual will on Serbia and Albania praise-worthy".