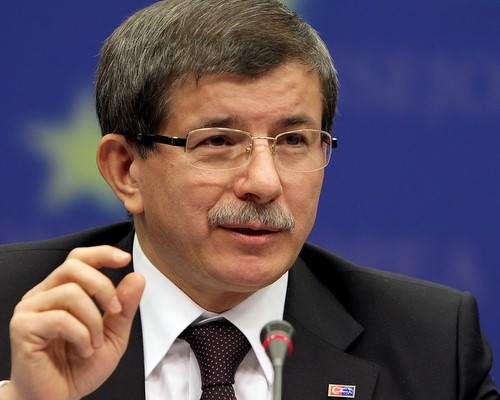 By Manolis Kostidis – Ankara
The Prime Minister of Turkey Ahmet Davutoglu reacted strongly to the accusations placed against his country for allegedly supporting the Islamic State (ISIS).
During his return trip from the Philippines to Turkey, the Prime Minister indirectly accused Iraq and the US for the relations with ISIS.
"I want to ask everyone. Where did the leader of ISIS Baghdadi come from? i.e. from Abu Ghraib (iraqi prison). I challenge someone to give me a name of an ISIS leading member, who came from Turkey or crossed the turkish border. Was Iraq and Abu Ghraib, from where the leaders of ISIS appeared, ever under Turkish control? I would also like to emphasise that many militants of this organization come from the Syrian prisons".
Davutoglu argued that an EU member country's Foreign Minister had asked him for Turkey to take actions to prevent the passage of members of ISIS.
"I replied", if you know who they are do not to allow them to leave your country. He replied that a "democratic country cannot prevent the free movement of people who have not committed crimes. And I stressed to him that we cannot prevent entrance to any tourist who has not committed any crimes. After our conversation we began to receive lists of names and we have already denied entry to 7000 peorsons in our country. Our mechanism is working properly".
The Turkish Prime Minister argued that the trucks with weapons that had been found in Turkey and were mentioned as carrying weapons to ISIS were a "propaganda" and claimed that and episodes that occurred in Turkey in response to developments in Kobani was an "attempt to tarnish the image of Turkey ". "They want the fire that broke out in Syria to spread to Turkey", said Davutoglu.
On the issue of the resolution of the Kurdish problem, Davutoglu said that only Turkey has taken steps and that the Kurds did not do much. "They have not fulfilled their promises. They should have already surrendered their weapons. They have not", said the Turkish Prime Minister.
He ruled out the possibility of the presence of a foreign observer in the talks for the resolution of the Kurdish problem.
On Thursday, Davutoglu will pay an official visit to Baghdad.