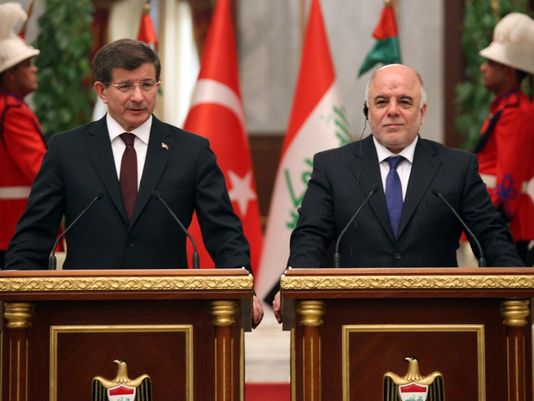 By Manolis Kostidis – Ankara
After four years of exclusion from the previous central government of Baghdad, Ahmet Ntavoutoglou visited Iraq in an effort to improve relations between the two countries. The Turkish Prime Minister met with Prime Minister of the central government of Baghdad, Haidar Al Abad, and tried to show that there is a triangle of cooperation between Turkey, Iraq and the autonomous Kurdish region of northern Iraq in the energy sector, as well as in the fight against the Islamic State.
"Iraq is an important country in the region with its natural resources, but today is faced with security problems such as the terrorism of the Islamic State. And we make it clear that the threat agents against Iraq are threats to Turkey. This might be the Islamic state, it might be the PKK. Turkey has a clear position against terrorism", Davutoglu stressed.
A few days ago, Baghdad had concluded an intermediate agreement with the administration of Northern Iraq and had granted the Kurds the right to sell their oil in the region to Turkey, in exchange for the right to sell 200,000 barrels of oil to Ankara.
Davutoglu visited Arbil on Thursday evening and met with the leader of the autonomous Kurdish region Mazount Barzani and discussed issues concerning the fight against the jihadists, and energy.
Turkish Prime Minister had been declared persona non grata by the previous government in Baghdad by the former Prime Minister Maliki, since he had visited northern Iraq without seeking the required permission.
Turkey, with Davutoglu's movements is trying to show that he is leading a coalition formed against the Islamic State, since today begins the visit of US Vice President Joe Biden, who will meet with the Minister Recep Tayyip Erdogan and Ahmet Davutoglu.
Biden is expected to ask from Ankara to undertake a more active role against Islamic terrorism.