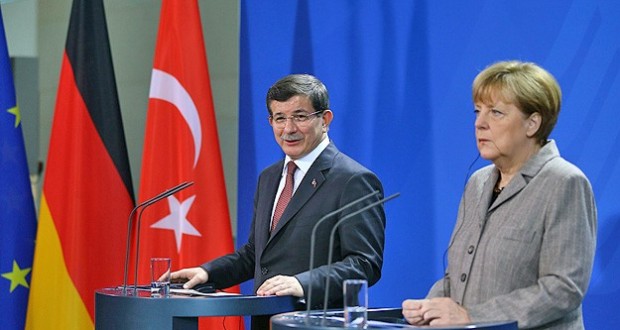 Ankara, January 22, 2016/Independent Balkan News Agency
By Manolis Kostidis
The German Chancellor persists in the cooperation with Ankara
Ahmet Davutoglu visited Berlin and met with Angela Merkel in a bid to speed up procedures so that Turkey can receive the EUR 3 bn to prevent the flow of refugees to the EU!
"Let's not throw the ball of responsibilities to each other. We must work together to deal with the refugee issue", said the Turkish Prime Minister immediately after his meeting with Merkel.
Davutoglu asked from the German Chancellor to honour the agreement signed in November 2015, but according to Frontex, 726.000 refugees have passed to the EU via Turkey.
European officials say that so far there haven't been an measures taken by Turkey that would clearly indicate a progress in the refugee problem.
"Turkey is not far from Europe and this is why we must work together to deal with the problem. That is why we are working together to address the refugee problem and the issue of batttling terrorism", Merkel said.
The German Chancellor said that she pointed out to Davutoglu her objections on the arrests of the academics and the situation with the PKK, but her reference was not harsh…
The Turkish side argues that Europe has not complied with any of its promises. However, many EU states argue the same thing.
The Turkish prime minister seems to have asked the German Chancellor for the immediate disbursement of EUR 3 bn for the creation of new refugee camps. At the same time, he asks for the opening of the Chapters for Turkey's accession course to the EU, while he also expressed the Ankara's concern with the reluctance of many countries to lift the visas for Turkish citizens, but also for the financial assistance to Turkey.
"We had said that long ago that the best way to address the refugee crisis is to create a buffer zone in Syria where we could accommodate all the refugees", Ahmet Davutoglu said.
The agreement between Turkey and the EU had been reached after the visit of Angela Merkel to Ankara. That is why the Turkish government expects a lot from the Chancellor who still believes that Turkey should cooperate with EU.
In Turkey today there are about 2.5 million refugees from Syria. 250,000 of them live in refugee camps. The rest either live and work within the Turkish territory or the coastline, waiting to cross by boat to Greece. From Turkey however also pass to Europe many immigrants from North Africa, Pakistan and Afghanistan, as Turkey does not apply a visa regime with these countries. The Turkish Prime Minister reportedly promised the implementation of the visa measure with those countries.