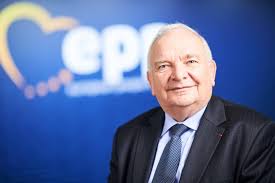 Joseph Daul, leader of the centre-right European People's Party (EPP), hailed the "window of opportunity" to resolve a long-standing name dispute between Greece and the Former Yugoslav Republic of Macedonia (FYROM), saying he hopes for "concrete" results.
It is interesting to note that Daul takes positions contrary to those of the EPP's Greek affiliate party, New Democracy.
"I hope that a mutually acceptable solution will be found and we welcome this window of opportunity that could lead to concrete results," Daul told EURACTIV.com on Wednesday (24 January) in an exclusive statement.
Daul's reaction comes at a crucial moment of the negotiations, as the leaders of the two countries made further progress meeting yesterday in Davos.
But the debate heated up in Athens with the main opposition New Democracy claiming that the solution to the name dispute should be sought at another time, with proper preparation and not with the "secretive" agenda the leftist government has adopted.
The government reacted strongly, claiming that Mitsotakis bowed to political pressure from the "extreme-right" lawmakers of his party./IBNA