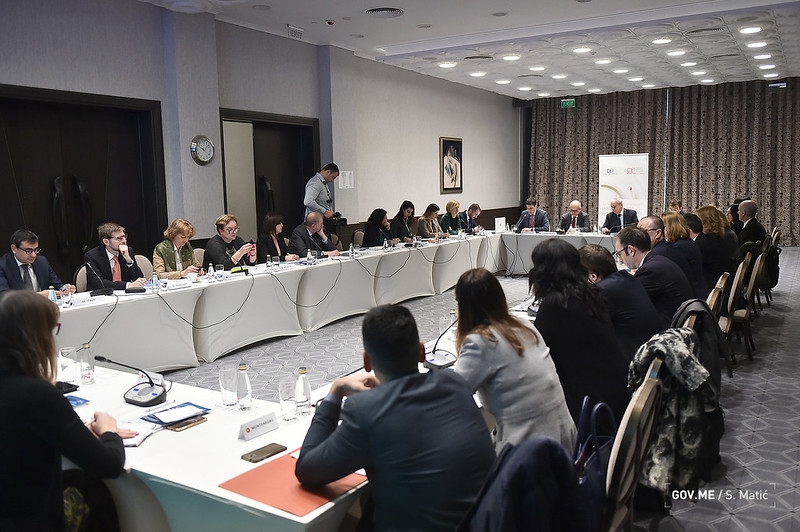 Montenegrin Foreign Minister Srđan Darmanović, in his capacity as Chairman of the Central European Initiative (CEI), opened today the first meeting of the Committee of National Coordinators of the CEI Member States in Podgorica.
Speaking about the importance of the European and Euro-Atlantic perspective for the long-term stability and economic growth of the region, Darmanović emphasized that the Montenegrin Chairmanship of the Initiative, for the second time since our membership, is a great motivation to continue adopting European values ​​and standards using the potentials of CEI.
"Over the past decades, Montenegro has managed to preserve its most precious value – multi-ethnic, multicultural and multi-confessional harmony and understanding. Montenegrin society is an example that living together in diversity is possible and is a solid basis for progress, that the concept of multiculturalism is and must be a success story. In addition, this is our concept for the future. That is why Montenegro today is a platform for regional gatherings and many initiatives that strive for our common goal", Darmanović said.
The head of Montenegrin diplomacy said that Montenegro would continue to work to promote the core values ​​of CEI, with the aim of strengthening solidarity and good neighbourly cooperation.
CEI Secretary General Roberto Antonione said that Montenegro could count on the support of the CEI Secretariat, and expressed confidence that this would be another in a series of successful Montenegrin presidencies.
"Montenegro is a key player in the region and promoter of good neighborly relations. I am convinced that they will do their utmost to make regional cooperation one of the most important instruments for European integration and sustainable development", Antonione said.
He stressed that the political priorities of the Montenegrin Presidency are fully aligned with contemporary challenges, adding that the key mission of the Initiative is to promote the European integration of Montenegro and the Western Balkans region.
The meeting, attended by representatives of 17 CEI member countries, welcomed the priorities of Montenegro's chairmanship of the Initiative, reflecting national as well as the interests of the entire region. Opinions were exchanged on the importance of working together in the fields of scientific diplomacy, environmental protection, integration, public administration reform and the creative and cultural industries. In addition, the need to intensify cooperation between the parliaments of CEI member states was emphasized, as well as to promote the economic potential and value of the region through strengthening the business dimension. Unanimous support was given to the objectives of the Presidency, in order to provide better preconditions for the socio-economic development of the region and its cohesion.
The CEI Executive Secretariat also briefed on current and upcoming activities within the government, parliamentary and business dimensions of CEI, as well as on cooperation with international institutions./ibna