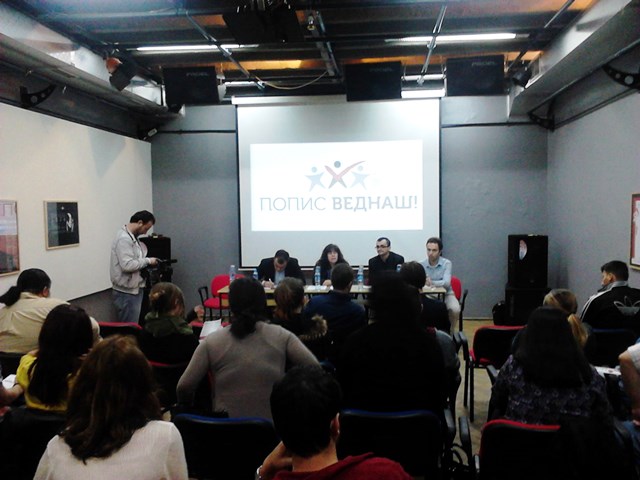 IBNA Special Report
Skopje, June 2, 2014/Independent Balkan News Agency
By Naser Pajaziti
The lack of the registration of the population in the former Yugoslav Republic of Macedonia is causing serious problems in further development of the country and in the economic and democratic aspect.
The reasons why the registration was suspended are politically related and conceal dark intentions, say the participants of the debate "Immediate registration" held today in Tetovo.
The debate was hosted by the Center for Balkan Cooperation "LOJA" and non government associations "September 8", Macedonian Center for European Education and "InfoCenter".
Dr. Salajdin Saliu, university professor, said that the problem of registration must be seen as a great problem of the state, which seriously affects the electoral process.
"We still don't have information on our population. We're the only state whose number of voters is the same as the number of population, knowing that we have family members who are not entitled to vote. We have a bigger manipulation, because we must not see the rights of a certain people based on the number of its population, because the rights of the people are not expressed in numbers or percentages, they are basic rights", says Mr. Saliu.
Lupco Petkovski from the Macedonian Center for European Education says that an analysis is taking place about the reasons for the failure of the registration, where many serious flaws are coming to the surface.
"First we may consider it as a political failure. The Macedonian side fears that Albanians can result more than 25% and may demand more rights. On the other hand, Albanians try not to result less than 20% because their rights would be denied. We also have the lack of coordination between institutions about the registration way. We have uncertainties in the entire process. This shows that our institutions are not able to carry out the registration process", underlined Petkovski.
Expert on legal issues, Aferdita Haxhijahja-Imeri said that the registration of population is a political problem, while it's totally wrong to guarantee the rights of Albanians or minorities based on the percentage and not the Constitution.
"I'm demoralized by the Albanian political elite. It has been able to do nothing in these 10 years. Our rights are guaranteed by the Constitution and not based on the percentage. We cannot wait for the registration to take place and based on the registration, to have our rights denied or confirmed. Therefore, I believe that institutions have failed on this aspect", says Imeri.
The registration of the population of the country started in 2011, but it was suspended due to problems on field and disagreements at the State Registration Commission. There, there were disagreements between Albanian and Macedonian representatives. The debate related to the methodology of registration and discordance about aspects relating to the law for the registration of population.
Since that period, the government has kept quiet and has not set deadlines about this operation. What's known is that there will not be a registration of the population this year. But what's not known is: will this process ever end? /ibna/