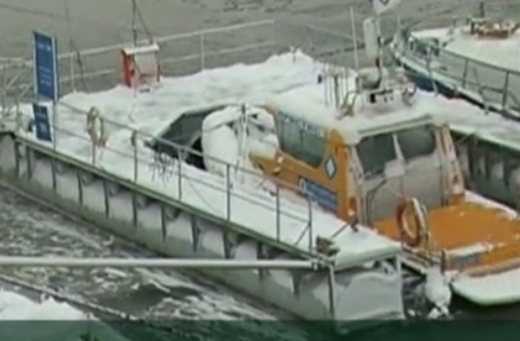 An ice cover of about 50 per cent formed on the Danube River near the Bulgarian town of Silistra, according to data from the local hydrological station on January 8.
Near Oryahovo and Svisthov, ice cover was about 30 per cent and in the region of Novo Selo and Lom about 10 per cent.
Currently, there was no danger to shipping in the Bulgarian section of the river, but with the increased ice formation, ships have to return to port or winter shelters.
Since the beginning of the last century, the Danube River froze completely 28 times. Over the past 100 years, the longest period that the river froze over was 89 days, from December 21 1953 to March 19 1954. The most recent ice formation on the Danube was in winter 2014.
Meanwhile, on January 8 public broadcaster Bulgarian National Television, in an update on the severe winter weather situation in Bulgaria, said that the situation in the Rousse region was gradually normalising, though in Silistra, the situation remained difficult.
Emergency teams were working to restore electricity supply to places with power cuts.
Two military rough terrain vehicles had been sent from Rousse to Silistra to help teams from the Energo Pro energy distribution company, Silistra regional governor Stoyan Bonev.
The Silistra – Rousse – Shoumen – Dobrich road had been re-opened on the morning of January 8 after being closed to traffic the night before.
For the second consecutive night, the Silistra – Sofia train did not run, because of large snow drifts on the railway lines.
In the city of Rousse, the morning temperature was minus 11.3 degrees Celsius, with a wind speed of 20 metres a second.
The Danube Bridge border checkpoint at Rousse was open for lorry traffic, the report said./IBNA